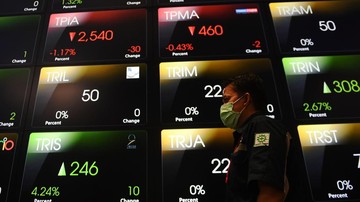 Jakarta, CNN Indonesia —
The Jakarta Composite Index (IHSG) closed at 6,762 on Friday (24/3). JCI strengthened by 70 points or 1.06 percent from the previous trade.
Foreign investors recorded a net buy of IDR 206.95 billion during the week. In the past week, the stock index has recorded strengthening twice, weakening once, and taking two holidays.
In total, the performance of the stock index strengthened 2.02 percent.
The Indonesian Stock Exchange (IDX) Corporate Secretary Yulianto Aji Sadono said the average daily transaction value of the exchange decreased 17.90 percent to IDR 10.33 trillion from IDR 12.58 trillion in the previous week.
The average daily exchange transaction frequency also decreased by 4.64 percent in a week from 1,284,405 transactions to 1,224,863 transactions.
The decline also occurred in the average stock exchange transaction volume to 17.26 billion shares from 23.15 billion shares in the previous week or a sinking of 25.45 percent.
"The stock market capitalization increased by 1.18 percent or IDR 9,390.840 trillion from IDR 9,281.293 trillion at last week's close," he said as quoted from the IDX website, Friday (24/3).
Capital Market Observer Oktavianus Audi predicts that the JCI will strengthen in a limited range of 6,633-6,828.
"Currently the JCI requires confirmation to continue the strengthening trend with resistance at the 6,808 or MA50 level," Audi told CNNIndonesia.com, Saturday (25/7).
There are three scenarios for JCI movement this week, namely optimistic in the range of 6,828-6,953 levels, moderate in the range of 6,633-6,828 levels, and pessimistic in the range of 6,510-6,633 levels.
Audi details three main sentiments that will affect the movement of the index this week both from within and outside the country.
First, the corporate actions of issuers in Indonesia and abroad, including the cumulative dividend date of issuers BMRI (yield 4.85 percent), ESSA yield 4.64 percent), BBNI (yield 4.08 percent), BBTN (yield 3.39 percent) and BBCA (1.93 percent yield).
According to him, there will be a weakening after the dividend recording date or ex date.
Second, the release of China's NBS Manufacturing data in March 2023 which is expected to fall to 51.2.
According to him, if there is a slowdown in the manufacture of the Bamboo Curtain country, it will give negative sentiment. This is because the value of trade with China is the largest and it is feared that it will cause an economic slowdown.
Third, the release of the core PCE price index data for the United States in February 2023, which consensus estimates are down by 0.4 percent on a monthly basis.
"This will provide a positive sentiment because a slowing PCE index could make the Fed's outlook more dovish," said Audi.
Technically, he advised investors to look at PT Sumber Alfaria Trijaya Tbk (AMRT) shares which grew 1.03 percent to 2,930 a week ago. With buy trading recommendations, AMRT is predicted to penetrate 3,100.
Then, PT Eraajaya Swasembada Tbk (ERAA) shares rose 2.97 percent to a level of 520. With a projected movement of support at 484 and resistance at 580, Audi advises investors to use a buy trading strategy.
Then, there are two stocks that are recommended for speculative purchase, namely PT Ramayana Lestari Sentosa Tbk (RALS) and PT Indofood Sukses Makmur Tbk (INDF). Audi projects that this week RALS will shine at 715 and INDF will penetrate the 6,800 level.
Meanwhile, the Marketing Team of PT. Universal Broker Indonesia Sekuritas Maria Stephanie Yasintha predicts that the JCI will continue to strengthen this week after the previous downtrend and create new support at the level of 6,542.79.
According to him, from within the country, the strengthening will be supported by the Ramadan momentum for stocks in the consumer and retail sectors as well as the positive prospects for dividend distribution from banking stocks which started on Tuesday last week.
Meanwhile, global sentiment this week will be influenced by the Fed's decision to raise its benchmark interest rate in accordance with the previous prediction of 25 basis points (bp).
"Previously, the FOMC considered holding interest rate increases due to the banking crisis, but the meeting still decided on an increase because inflation was still strong and the labor market was still hot," said Maria.
Based on these sentiments, Maria recommended several selected stocks. Here are the details;
A. BDMN
Trading buy entry area : 2.800 – 2.830
Target 2.960 – 3.050
Support 2.670-2.690
B. PWON
Trading buy Entry Area 430-434
Target 450-454
Support 412-416
C.BRPT
Trading buy Entry 785-800
Target 840-860
Support 740-760
(Gambas:Video CNN)
(fby/dzu)