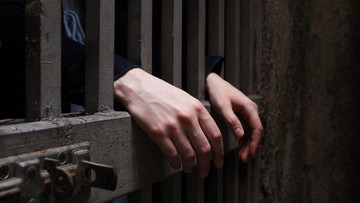 Jambi, CNN Indonesia —
Bripka Handoko, a member of the Maro Sebo Police, Mauro Jambi, carried out an action that became the spotlight in cyberspace. He opened the cell door so that a prisoner could hug his daughter.
Handoko said that this moment took place on Friday (24/3), during iftar. The child, who is about 4 years old, comes with food for his father.
"This child came with his sister to deliver food to break the fast. I said to this child 'do you miss your father?' After that I opened the cell door," he said.
This action went viral on social media. In the video recording, the father or detainee immediately hugs his daughter after the cell door is opened.
"I saw him with his parents. I saw him touched. Spontaneously, I immediately asked permission from the picket officer to open the cell," said Handoko.
After the door was opened, Handoko also let the father and son spend time together inside. He locked the cell door locked from the outside.
"I peeked again. They were joking around. It wasn't long before they met. So, let go of that longing," said the man who has been a police officer since 2006.
It turns out that Handoko has a daughter who is the same age, so Handoko is easily moved to see the child and father.
"I have a girl too. Same age," he said.
Handoko uploaded the video on social media to remind people not to commit crimes. He didn't
"So that people think about doing like that, and convey that family is valuable. So to remind the perpetrators out there," he said.
Handoko was not sanctioned after explaining the action to his leadership. Because, at that time security was still maintained.
"It has been conveyed to the leadership. Indeed I was wrong. But, actually there are three more doors, so it's safe," he said.
The detainee himself was involved in a theft case with weighting and was subject to Article 363 of the Criminal Code. The father has been detained at the Maro Sebo Police Headquarters for 53 days. In the near future it will be submitted to the prosecutor's office.
(msa/isn)
(Gambas:Video CNN)