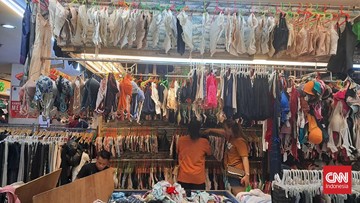 Jakarta, CNN Indonesia —
Minister of Cooperatives and SMEs Teten Masduki and Minister of Trade Zulkifli Hasan agreed to give concessions to retailers or resellers selling imported used clothing during Ramadan and Eid.
The leniency was given in the midst of efforts to stem the import and sale of used clothing. A leeway was given to small traders for the time being.
"The authority lies with the Minister of Trade, the Minister of Trade said, already traders who still have goods that they have bought from smugglers are still allowed to sell them," said Teten as quoted from Antara, Monday (27/3).
He added that while providing these concessions, the government will first stop the smuggling of imported used clothing, including imported used footwear.
"Especially during this fasting month, they still have to seek sustenance, right? We have a compromise there, now what we agreed with the Minister of Trade, we are strict not to let the smuggling continue," he said.
Even though he still has a permit to sell used imported clothes for a while, Teten asked traders to be aware of switching to legal products, such as those owned by MSMEs.
"We urge them to have their own awareness. The government's aim is quite good, how to protect local fashion producers who have been selling in the domestic market and have been hit hard by imported products and used clothes," he said.
He further said that through a special hotline service for business actors affected by the ban on the import of illegal used clothing, a number of traders had requested that they be facilitated with legal substitute products that they could sell.
Responding to this request, KemenKopUKM together with Smesco are preparing a number of lists of MSME-owned clothing, footwear and cosmetic manufacturers who will become suppliers of merchandise to replace imported used clothing.
Smesco Indonesia Director of Business and Marketing Wientor Rah Mada on the same occasion, appealed to traders affected by the ban on the import of illegal used clothing to immediately report via the hotline number so that they can be matched with local products that can be sold.
He revealed that currently there are 12 producers who are ready to supply replacement merchandise. Two of them are Dimensi (Digital Marketing Enthusiast Indonesia) which has the same business scheme as illegally imported used clothing manufacturers, namely the reseller method and drop shipper and Muslim clothing manufacturer Rosella.
(Gambas:Video CNN)
(agt/sfr)
(Gambas:Video CNN)