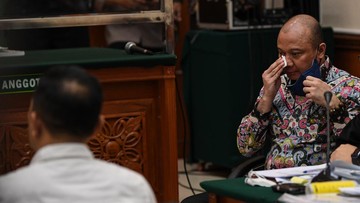 Jakarta, CNN Indonesia —
Former Kali Baru Police Chief, North Jakarta Kompol Kasranto was charged with 17 years in prison and a fine of IDR 2 billion, a subsidiary of 6 months in prison, in a drug case involving former West Sumatra Regional Police Chief Teddy Minahasa.
The public prosecutor (JPU) asked the West Jakarta District Court (PN) panel of judges to declare Kasranto proven legally and convincingly guilty of committing a crime without rights or against the law by acting as an intermediary in buying and selling, receiving and handing over Narcotics Class I non-plants, which weigh more than 5 grams.
"Sentenced the defendant Kasranto with imprisonment for 17 years and a fine of IDR 2 billion, a subsidiary of six months in prison minus the detention period," said the prosecutor when reading out the charges at the West Jakarta District Court, Monday (27/3).
Kasranto is considered proven guilty of violating Article 114 paragraph 2 of the Law of the Republic of Indonesia Number 35 of 2009 concerning Narcotics in conjunction with Article 55 paragraph 1 to 1 of the Criminal Code.
The prosecutor also revealed aggravating and mitigating things for Kasranto. The burdensome thing was that Kasranto had received, became an intermediary, and sold methamphetamine-type narcotics. He is also considered to enjoy the benefits.
In addition, Kasranto's actions have damaged public trust in law enforcers, especially the National Police.
While mitigating matters, Kasranto admitted and regretted his actions.
Kasranto together with Teddy Minahasa, AKBP Dody Prawiranegara, Linda Pujiastuti, Aiptu Janto P. Situmorang, Muhammad Nasir, and Syamsul Maarif were charged with trading 5 kg of methamphetamine evidence confiscated by the Bukittinggi Police.
This case began when the Bukittinggi Police uncovered drug trafficking and seized 41,387 kg of methamphetamine as evidence on May 14, 2022.
At that time, Dody, who served as the Head of the Bukittinggi Police, reported the case to Teddy Minahasa, who at that time served as the Head of the West Sumatra Regional Police.
Teddy then ordered Doddy to round it down to 41.4 kg, and asked Dody to exchange the methamphetamine as evidence with 10 kg of alum.
After that, as many as five kilograms or half of the meth evidence which was wart was found to be being re-sold by Teddy Minahasa Cs.
(flax/gil)
(Gambas:Video CNN)