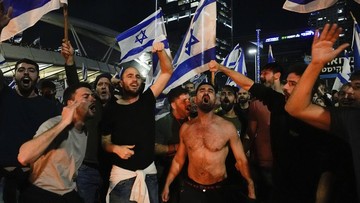 Jakarta, CNN Indonesia —
Israel is in the spotlight due to a number of events. Massive riots occurred in a number of cities in Israel during the U-20 national team from that country in the U-20 World Cup.
In Indonesia, a number of parties and regional heads expressed their rejection of Israel's presence in RI.
Recently, FIFA suddenly canceled the U-20 group drawing in Bali after the fuss over Israel's rejection of participation.
According to the schedule, they were supposed to draw on March 31. However, so far there is no further information.
The cancellation came a few days after the Governor of Bali I Wayan Koster refused to attend the Israeli national team.
(Gambas:Video CNN)
The government has determined six provinces to be the arenas for the games. One of them is in Gianyar City, Bali.
Meanwhile, in Israel thousands of citizens took to the streets.
What actually happened in Israel?
Thousands of people protested the dismissal of Defense Minister Yoav Gallant.
They staged protests in several cities including Tel Aviv. Demonstrations also took place near Netanyahu's house, in Jerusalem.
The demonstrators also carried out a series of actions such as burning tires and blocking roads.
Gallant was sacked after rejecting plans to change the justice system by Netanyahu. Later, the system gave politicians more control and reduced the role of the Supreme Court.
Netanyahu also claimed the proposed amendment would restore balance to Israel's judicial and executive institutions.
The plan was also rejected by a number of parties, from Israeli President Isaac Herzog to residents.
"The growing social rifts are allowing (soldiers) and security agencies to enter. This is a clear, direct and real threat to Israel's security," he said, as quoted by AFP.
The action does not stop today. Israel's biggest trade union, Histadrut, has threatened a massive strike if the government continues to overhaul the justice system.
The head of Histadrut, Arnon Bar David, gave an ultimatum to the Israeli government to immediately give a statement that the proposed amendment was cancelled.
"Give back sanity to the country. If you don't announce in today's press conference that you changed your mind, we will go on strike," Bar David said as quoted by Reuters.
(isa/bac)