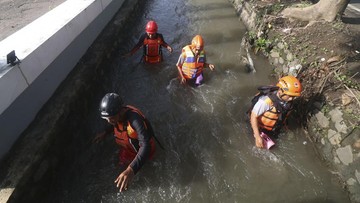 Jakarta, CNN Indonesia —
A number of areas in Kediri City, East Java, were hit by floods overflowing rivers on Saturday (25/3). As a result of the incident two people were declared missing. One of them was found dead, while the rest have not been found until now.
Indun Munawaroh, Head of BPBD Kota Kediri, said that the two victims were all children. Namely AS (10) and his younger brother MR (4 months).
Indun said the incident started when the two victims and their parents Hendri Supriyono (46) and Sulastri (42) were crossing Jalan Captain Tendean, using a motorbike.
When crossing, because they were too pulled aside they did not know they had arrived at the edge of the river. The wife and her two children fell into the river.
"The fatalities were caused by slipping in the area around the ditch on Jalan Captain Tendean, because the current was quite swift and it was quite dark at the time, the fatalities were not saved," Indun said when confirmed by CNNIndonesia.com, Monday (27/3).
Supriyono and Sulastri have received treatment. Two missing children, one of whom was found dead. While his sister is still in the process of searching.
"The children who died were 10 years old, Mas AS and Dik MR 4 months old. Only MR has been found, whose older brother we are still conducting a search process in the area around the TKP," he said.
Floods in Kediri hit several areas. Among them are Perum Permata Biru, Kediri Hamlet, Pakunden Village, Islamic Boarding School District; then Graha Mukti Regency, Kediri Hamlet, Tosaren Village, Islamic Boarding School District.
Then Blabak Village, Islamic Boarding School District; Bence Regency Housing, Pakunden Village, Islamic Boarding School District and Perum BTN Rejomulyo, Rejomulyo Village, Kota District.
In Pakunden, Tosaren and Blabak sub-districts, Pesantren District, neighborhood roads were inundated with a water level of approximately 35 centimeters. 99 units of houses affected with a water level of 40 – 100 centimeters.
Then at Perum BTN Rejomulyo, Rejomulyo, City Headquarters. The neighborhood road was inundated with a water level of 35 centimeters, 10 houses were affected with a water level of 40-100 centimeters.
He said this was caused by moderate to heavy intensity rains in the Kediri City area, which resulted in several clogged tributaries being unable to accommodate the increasing water discharge so that water overflowed into residents' settlements and access roads.
"Several points in the City of Kediri yesterday were inundated by several small rivers, in the regency area. So this is actually a shipment, the intensity is quite high and the duration of the rain is quite long, finally overflowing into the City of Kediri," he said.
Some areas, he said, had receded quickly. However, there are some that have not receded, such as due to the contours of the land and area.
"But overall, almost 90 percent at that time immediately receded, because when it happened, the Kediri City Government and the community immediately took anticipatory steps, for example direct suctioning at the puddle point," he concluded.
(frd/ain)
(Gambas:Video CNN)