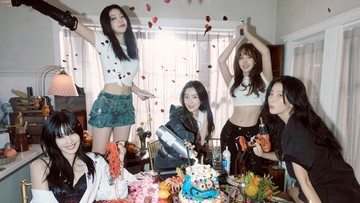 Jakarta, CNN Indonesia —
Red Velvet will return to concerts in Indonesia in the near future. This is known through the girl group's latest upload regarding the latest tour schedule which will start in April 2023.
In the schedule uploaded on Monday (27/3), Indonesia is one of the nine destinations for Red Velvet's upcoming tour, Red Velvet 4th Concert: R to V.
Based on this upload, Red Velvet will have a concert in Indonesia on May 20, 2023. Until now there have been no details on the venue, ticket prices or ticket sales schedule for Red Velvet's concert in Indonesia in May.
Red Velvet's fourth tour will start from Seoul, South Korea on April 1 and 2. Red Velvet then continued to Singapore on April 21.
Irene, Wendy, Seulgi, Joy, and Yeri then continued their tour in Japan (Yokohama) on May 3 and 4, followed by the Philippines (Manila) on May 7, Thailand (Bangkok) May 13 and 14, then Jakarta on May 20.
After that, they will fly to Europe to start their tour in France (Paris) on May 24, Germany (Berlin) on May 27, Netherlands (Amsterdam) on May 30. In the upload, they will also go to England on June 6.
"Red Velvet begins their 2023 global tour with R to V in Seoul, followed by concerts in Asia and Europe! Red Velvet will also attend the world's largest music festivals during the tour," wrote the group's official account.
The Red Velvet 4th Concert: R to V concert in Indonesia will be the first in almost a year.
Red Velvet last appeared in front of Indonesian fans when they became one of the main artists for the 2022 Allo Bank Festival in May 2022. Before the pandemic hit, Red Velvet last visited Indonesia in 2019.
The Red Velvet 4th Concert : R to V tour was held after the girl group released the mini album The ReVe Festival 2022 – Birthday in November 2022.
Not only that, this tour will also be the first in three years after La Rouge in 2020.
(Gambas:Video CNN)
Red Velvet is a girl group that debuted in 2014 under SM Entertainment. They are included in the third generation K-Pop vocal group that has successfully expanded internationally.
Red Velvet debuted with four members, namely Irene, Wendy, Seulgi, and Joy, through the single Happiness. At that time they appeared with colorful and cheerful nuances of songs.
Then in March 2015, the number of Red Velvet members increased. Yeri entered and became the youngest member. They also made a comeback with the songs Ice Cream Cake and Automatic. Since then, Red Velvet officially has five members until now.
(chris)