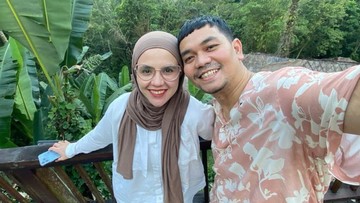 Jakarta, CNN Indonesia —
Aldila Jelita revealed that she intends to send compote to Indra Bekti in Ramadan 2023. She admits that she wants to make compote for Bekti even though they are in the process of divorce.
Aldila revealed that Indra Bekti liked compote. So, he admitted that he often made Bekti a special drink for breaking the fast when he was still living together.
"Later, if possible, I want to bring Mas Bekti's compote because I like compote," said Aldila at the South Jakarta Religious Court, before continuing the divorce process on Monday (27/3).
He also plans to bring the compote when breaking the fast with Indra Bekti. He admitted that he had invited Indra Bekti to break the fast with his two children.
Aldila said that the joint iftar agenda might be carried out this week or next week.
"Hopefully this week. So if we open together, I want to bring it (compote). So the sooner he brings food, in front of me it's also better to see his expression like that. I want to bring it at that time," he said.
He also stated that communication and relations with Indra Bekti were still well established and that he would continue to do so in the future. However, Aldila believes that divorce is the best way for him and Bekti.
"Mas Indra and I said that no matter what happened, I would still pay attention. If it is still allowed, 'you (Indra Bekti) will tell you after you come from which hospital. If you want to go to which hospital, you can accompany me," he said.
"I still want us to remain friends, best friends. The point is that it's better, communication is also more open," he added.
(Gambas:Video CNN)
Aldila Jelita officially filed for divorce from Indra Bekti. This news was previously announced by Milano on Monday (27/2), but the lawsuit was only registered with the South Jakarta Religious Court on March 1.
"Case Number 877.PDGT.2023 filed by Aldila Jelita as the plaintiff filed for divorce against her husband, Bekti Indra Tomo," said South Jakarta Religious Court Public Relations Officer, Taslimah.
On March 13, Aldila underwent the first mediation hearing. The mediation failed because Aldila and Bekti agreed that they still wanted a divorce.
Thus, the process continued on Monday (27/3) with the agenda of submitting the results of the mediation.
(yla/chri)