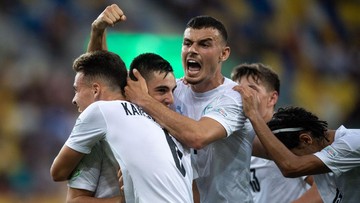 Jakarta, CNN Indonesia —
PSSI has been outspoken about the opportunity for the U-20 Israel national team to play in other countries in the 2023 U-20 World Cup, 20 May-11 June.
Recently, Israel became a polemic because it received a big refusal to play in Indonesia from a number of parties.
Rejection did not only come from supporters or organizations, but from the direct government, one of whom was the Governor of Bali I Wayan Koster.
As a result of Koster's refusal, FIFA canceled the draw for the 2023 U-20 World Cup which was supposed to be held in Bali, Friday (31/3). The reason is that Indonesia cannot guarantee the security of participating countries.
The cancellation of the drawing raises concerns for Indonesia, including sanctions against Indonesian football.
In order for Indonesia to avoid FIFA sanctions and for the 2023 U-20 World Cup to be held, the option for Israel to be played in another country arose. However, rumors about Israel being played in Singapore were denied by PSSI.
"This means that it is being implemented in two countries. The problem is that we submitted only one country from the start," said PSSI Exco member Arya Sinulingga, Sunday (26/3).
"There are no names for two or three countries. So it could be, but most likely it will be rejected. Singapore has not volunteered," Arya added.
Bringing the Israeli national team to play in Singapore, according to Arya, will add to the work of PSSI and also the U-20 World Cup organizing committee. The reason is, Indonesia also has to lobby the Government of Singapore so that Israel can play in the country.
"We have to lobby the Government of Singapore again to agree," said Arya.
"So, when the bidding should be carried out (by) the two countries. Not in the middle, we are already proposing a new path," said Arya continued.
Arya said PSSI Chairman Erick Thohir would make every effort so that the 2023 U-20 World Cup would still be held in Indonesia and Red and White would avoid sanctions.
"But Pak Erick will lobby in every way so that on the one hand there is a middle ground in organizing, on the other hand we are not isolated from the world football ecosystem," said Arya.
(Gambas:Video CNN)
(abs/sry)