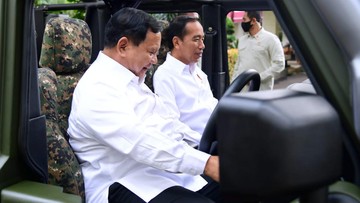 Jakarta, CNN Indonesia —
The attitude of Defense Minister Prabowo Subianto on various occasions when accompanying President Joko Widodo (Jokowi) drew public scrutiny.
Prabowo's attitude which was recorded and viral on social media received positive comments from netizens.
One of Prabowo's moments that drew praise was when he accompanied Jokowi on a working visit (kunker) to Papua, in mid-March. Based on the photo received on Monday (27/3), Prabowo, who at that time was about to ride in the RI 1 car and waited for Jokowi to enter first.
Prabowo then gave a respectful greeting and asked permission before getting into the car. The moment shared by Instagram @fractionpartaigerindra was immediately filled with comments. Various positive expressions were aimed at Prabowo's attitude.
"Excellent adab, always healthy Pak Bowo," wrote the account @agustinus_181wb.
"Masyaallah, very polite ethics," said the account @oktasarisabil.
Still in the moment of a working visit to Papua, Prabowo again showed a polite attitude towards Jokowi. While enjoying the entertainment program, Prabowo seemed engrossed in singing the song 'Ojo Compared to'.
As soon as the song lyrics were sung and Prabowo's name would be called the singer, Prabowo immediately said 'Jokowi' while pointing at Jokowi.
Prabowo also went viral when he attended the G20 Summit, last November 2022. He was caught on camera not stepping on the red carpet that was held for the country's leaders.
The public also considered that Prabowo's move was an example of self-conscious behavior in his position as a minister.
Apart from that, Prabowo also received positive comments when he was recorded as accompanying Jokowi at the TNI-Polri Leadership Meeting (Rapim) on February 8, 2023. He was caught on camera seriously writing down Jokowi's statement with a pen and small book.
Read more here.
(tim/isn)
(Gambas:Video CNN)