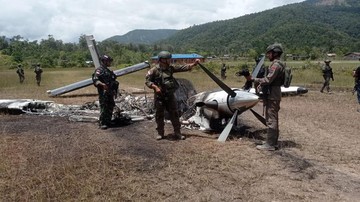 Jakarta, CNN Indonesia —
Joint investigators from the Nduga Police and the Papua Regional Police have named 15 people as suspects in the burning of the Susi Air plane in Paro, Nduga Regency, Papua Mountains.
The Directorate of General Criminal Investigation of the Papua Regional Police Kombes Faizal Rahmadani said the determination was made after investigators conducted a case and named 15 people as suspects including the leader of the armed criminal group (KKB) Egianus Kogoya.
Apart from being named suspects, they are also on the wanted list (DPO) whose identities and photos will be distributed to a number of resort police (polres).
"Fifteen people who have become suspects and are on the DPO are members of the KKB who set fire to a Pilatus type aircraft belonging to Susi Air," he said when contacted in Jayapura, Monday (27/3).
He admitted that not all the suspects were in the video when the plane was burning in Paro because there were also identification results and witness statements.
"The witnesses questioned were five people," said Faizal.
Kombes Faizal who also serves as the Dan Peace Task Force for Cartenz admitted that the search for the New Zealand pilot was continuing.
"Hopefully pilot Philip Mark Mahrtens who has been held hostage since February 7 can be released soon," hoped Faizal.
The KKB led by Egianus Kogoya has taken hostage Susi Air pilot Philip Mark Mahrtens, a New Zealand national, shortly after landing his plane at Paro Airport, Nduga Regency, Papua Mountains.
Apart from taking the pilot hostage, the KKB also burned a Pilatus type plane belonging to Susi Air.
(Between/Mon)
(Gambas:Video CNN)