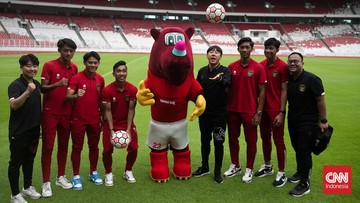 Jakarta, CNN Indonesia —
Indonesian football observer Akmal Marhali said that politicians contributed to the cancellation of the 2023 U-20 World Cup draw on Friday (31/3).
Akmal believes that the wave of rejection of the arrival of the Israeli national team to Indonesia was masterminded by politicians who wanted to boost their popularity on the political stage in 2024.
"My message to politicians who have political interests in 2024, don't use the U-20 World Cup as a promotional event," Akmal said in a release received by CNNIndonesia, Sunday (26/3).
The man who is the Coordinator of Save Our Soccer (SOS) also reminded that football is not only able to increase political prestige but can also bring down.
"Football can make a person's prestige rise but it can also quickly fall. This is what our politicians must pay attention to."
"They also have to be responsible for FIFA's decision because so far what has made the draw for the U-20 World Cup canceled is the movements of politicians who oppose what has become the line at the U-20 World Cup," said Akmal.
FIFA officially canceled the draw for the 2023 U20 World Cup which was originally scheduled to be held in Bali on March 31, 2023. This decision was taken after Bali Governor I Wayan Koster refused the Israeli national team's arrival in his territory.
The draw for the U-20 World Cup group division must actually be attended by representatives from the 24 participating countries, including from the Israeli national team.
"The draw was canceled because FIFA saw that there was no security guarantee in Indonesia for the draw. It was impossible for the draw to be attended by 23 countries while Israel itself was via zoom. Therefore it is important at this time to calm political stakeholders," said Akmal.
The U-20 World Cup itself is planned to be held in Indonesia from 20 May to 11 June 2023. A total of six stadiums have been prepared to hold this age group soccer party.
Now the U-20 Indonesian National Team is also continuing to make preparations ahead of appearing at the U-20 World Cup. It is planned that Shin Tae Yong will bring the U-20 Indonesian National Team squad to undergo the final training camp (TC) in South Korea in early April.
(Gambas:Video CNN)
(jun)