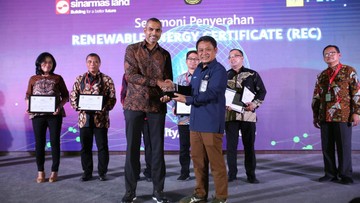 Jakarta, CNN Indonesia —
PT PLN (Persero) will supply renewable electricity through Renewable Energy Certificated (REC) of 613 megawatt hours (MWh) to the Sinar Mas Land Group, one of the largest property developers in Indonesia. This was marked by the submission of the REC between the two parties in Tangerang, Banten, on Tuesday (21/3).
PLN supplies the green electricity to 5 buildings owned by Sinar Mas Land, namely Sinar Mas Land Plaza BSD, Sinar Mas Land Plaza Thamrin, MyRepublic Plaza BSD, Traveloka Campus, and Green Office Park (GOP) 9 BSD. In total there are 45 thousand REC units provided by PLN in stages.
The Regent of Tangerang, Ahmed Zaki Iskandar appreciated the collaboration between Sinar Mas Land and PLN in efforts to reduce carbon emissions. It also supports the government's efforts to reduce carbon emissions in the future.
"We, from the Regional Government of Tangerang Regency, really support this program and hopefully we can make a movement together to make Indonesia even better," said Zaki who was present at the occasion.
On a separate occasion, the Main Director of PLN, Darmawan Prasodjo said that PLN is always ready to collaborate with various parties as a joint effort to achieve carbon emission reduction targets. Darmawan emphasized that through the REC, PLN provides renewable electricity supply options that can be utilized by all parties.
"REC is one of PLN's green product innovations to make it easier for customers to get recognition for using EBT that is transparent, accountable and internationally recognized without having to pay investment costs for infrastructure development," said Darmawan.
PLN UID Banten General Manager, Abdul Mukhlis added, until February 2023 PLN had issued nearly 580,000 REC units to 316 corporate customers. The number continues to increase every year, for example in 2022 it has increased almost 6 times compared to 2021.
According to him, the submission of the REC is PLN's commitment to supporting global business needs.
"We are quite happy because of the enthusiasm from users with an increase in interest for REC almost 6 times compared to 2021, PLN continues to be committed to increasing PLN's REC capacity, which is currently equivalent to 3 million REC or the equivalent of 3 TWh," said Abdul Mukhlis .
Meanwhile, Sinar Mas Land's Chief Risk & Sustainability Officer, Muhammad Reza Abdulmajid said Sinar Mas Land's move to use clean electricity from PLN was a joint effort in achieving the energy transition target.
He explained that the use of environmentally friendly green electricity from PLN is expected to achieve the company's decarbonization target of 35 percent of the energy sector in 2034 or the equivalent of 35,476.10 tonnes of C02e.
"This initiative will also support the company's commitment to achieve net zero in 2060," said Reza.
For support in serving customer needs for REC, PLN currently has 4 generators that have been registered. The four are PLTP Kamojang with a capacity of 140 MW, PLTA Bakaru 80 MW, PLTP Lahendong 130 MW, PLTP Ulubelu 110 MW.
(osc)