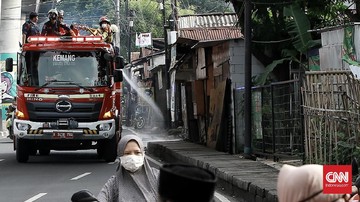 Jakarta, CNN Indonesia —
The horns, sirens and loudspeaker instructions for the fire department (damkar) who want to cross the red light make motorists panic while waiting for their turn. One of the riders, a woman, even let her motorbike fall and then ran as if she was afraid of being hit from behind.
The video of this incident was uploaded to social media, one of them by @zonasalatiga. According to the uploaded description at that time, the Salatiga city fire department headed for the scene of tkp 65, which is the code for a fire event.
(Gambas:Instagram)
In the video, taken from the perspective of the firefighters cabin, you can hear a series of loud horns before arriving at a red light.
"Motorcycles forward," is heard in the video, which appears to be an officer's voice using a loudspeaker.
Cars and motorcycles that had been standing still waiting for the red light immediately rushed to open the way for the fire department. However, one of the motorcycles, driven by a female rider, fell.
Whether because of too much panic or what, the woman immediately ran away from her motorbike.
"Don't panic ma'am," said the officer.
Firefighters who are carrying out their duties are the most priority vehicles on the road according to Law Number 22 of 2009 concerning Road Traffic and Transportation.
Of the seven priority vehicles regulated in the law, firefighters are number one. The fire department is even more important than the ambulance and the president's vehicle.
The following is the order of the seven priority vehicles on the road:
1. Fire fighting vehicles carrying out their duties
2. Ambulances transporting sick people
3. Vehicles to provide assistance in traffic accidents
3. Vehicles led by the state institutions of the Republic of Indonesia
4. Vehicles of leaders and officials of foreign countries and international institutions who are state guests
5. The cortege of the funeral procession
6. Convoys and/or vehicles for certain purposes according to police considerations.
(fea)
(Gambas:Video CNN)