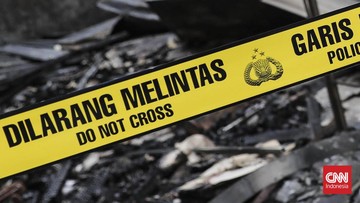 Jakarta, CNN Indonesia —
The police together with the Makassar Public Works Service (PU) will investigate the dome of the Ittifaqul Jamaah Mosque which collapsed and hit dozens of worshipers during the Tarawih event, Sunday (26/3) evening.
"The steps taken by the police have been processing the TKP, after that securing the TKP for further investigation," said Head of Makassar Port Police, AKBP Yudi Frianto, Monday (27/3).
Dozens of victims who were crushed by the collapsed dome of the mosque were brought to the Jala Ammari Navy Hospital, the Academic Hospital and the Pattingalloang Health Center.
"Now (victims) are 14 people, but we are looking for another preliminary investigation based on (victims) statements," he said.
Yudi explained that in this case his party would involve expert witnesses to reveal the cause of the collapse of the Ittifaqul Jamaah Mosque dome which resulted in dozens of worshipers being injured.
"We don't know yet, because those who know are expert witnesses. Later the PU will check, and we will investigate. The middle dome collapsed," he explained.
Meanwhile, the Mayor of Makassar, Moh Ramdhan Pomanto said the dome of the mosque measuring 4×4 meters had collapsed and hit the congregation and the Public Works Agency had been ordered to inspect the condition of the mosque building.
"I have ordered the PU (service) to evaluate the structure of the building and the sub-district to prepare a substitute for a mosque with tents in the area closest to the road, with all the facilities so that the tarwih service can continue," said Danny, his nickname.
Danny asked the public not to use the mosque for a while to prevent similar incidents from happening.
"For the time being, we will say that we should not use the mosque first. We will immediately investigate what caused it," he added.
(me/ain)
(Gambas:Video CNN)