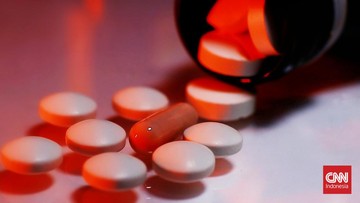 Jakarta, CNN Indonesia —
The Ministry of Health (Kemenkes) claims that it will improve the health system in Indonesia, one of which is to encourage the realization of self-sufficiency in medicines and medical devices (alkes) through the Omnibus Law Draft Health Law (RUU).
The Director General of Pharmaceuticals and Medical Devices at the Ministry of Health, Lucia Rizka Andalusia, said that the main problem in Indonesia at the moment is that the domestic health industry still depends on imported medicinal raw materials.
"Often we convey problems related to the dependence of raw materials on imported drugs. So 90 percent of the active pharmaceutical ingredients (API) for local pharmaceutical production are still imported," said Rizka in a public hearing on the Health Bill, Monday (27/3).
Rizka then invited the public to look at the e-catalog of medical equipment spending in the 2019-2020 period, according to her, 88 percent of medical devices were still dominated by imported products.
He also said that the budget for research and development in Indonesia is still low, namely 0.2 percent of total GDP. Meanwhile, developed countries such as Singapore and the United States, according to him, have budgeted 10 percent for research and development purposes.
"So, this bill contains several articles that accommodate the acceleration of the health resilience system," he said.
Rizka then asked the public to remember Indonesia's difficult times, which were dependent on drugs, medical equipment, and vaccines during the corona virus pandemic (Covid-19). This condition is detrimental to Indonesia because patients cannot be treated more quickly.
He then admitted that he did not want this condition to happen again in the future, so according to Rizka, it was important to have a regulation that would provide flexibility and support for the nation in innovating in the technology of making medicines to medical devices as a form of national independence.
"Therefore, the solutions offered in the bill, we will encourage the use of domestic raw materials and products and provide incentives for domestic drug manufacturers, as well as build a research ecosystem that supports innovation by providing infrastructure and facilitating licensing," he said.
(kr/ain)
(Gambas:Video CNN)