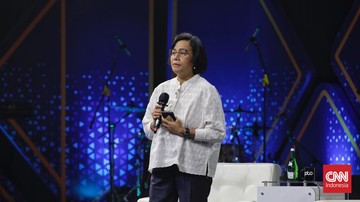 Jakarta, CNN Indonesia —
The Minister of Finance (Menkeu) Sri Mulyani emphasized that she had summoned 47 of the 69 officials from the Ministry of Finance who had unusual wealth. However, 5 officials absent due to illness.
Ani, as she is affectionately known, said that the summons of 69 Ministry of Finance officials was carried out in a marathon manner to clarify assets.
"Until March 17, 2023 we have summoned 47 employees we identified, 42 were present physically and 5 were sick," said Sri Mulyani in a working meeting with Commission XI at the DPR RI Building, Central Jakarta, Monday (27/3).
He said the clarification of assets was carried out by the Inspectorate General (Itjen) of the Ministry of Finance by checking the status of assets, sources of acquisition of assets, and tax data.
"We have made recommendations for the imposition of disciplinary punishment (hukdis), including RAT (Rafael Alun Trisambodo) and 2 officials from the Directorate General of Customs and Excise (DJBC) which went viral," he continued.
Ani then asked Ministry of Finance officials who had gone through the clarification stage so that the accuracy of the assets they reported could continue to be accounted for.
Previously, Inspector General of the Ministry of Finance, Awan Nurmawan Nuh, said the list of 69 employees was compiled based on two years of data, namely 2020 and 2021, and then summarized in June 2022. Awan admitted that the two-year inspection could not be optimal due to the COVID-19 pandemic.
Awan said that his party had collected analytical results. He also carried out formal and material checks related to employee property anomalies within the Ministry of Finance.
As soon as any irregularities were found, Awan said that his party would check again, starting from unreported assets to suspicious transactions.
"For the 2019 LHK, it means that those reported in 2020 were 33 employees who were not clear. For the 2020 LHK or 2021 reporting, there were 36 employees who were not clear. In total there were 69 employees who were not clear. We will then call, clarify, and carry out an examination," Awan said at the conference press, last Wednesday (3/1).
(Gambas:Video CNN)
(skt/sfr)