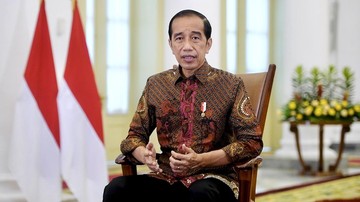 Jakarta, CNN Indonesia —
President Jokowi emphasized that the ban on breaking the fast only applies to government officials, not the general public.
"That directive not to break the fast together is only intended for internal government, especially coordinating ministers, ministers and heads of non-ministerial government agencies. Not for the general public," Jokowi said in his official statement at the Palace, Monday (27/3).
"I need to convey this directive because there is so much public scrutiny on the lives of our officials," he said.
Jokowi also asked government officials to welcome the fasting month of fasting in a spirit of simplicity, not exaggerating.
Previously, Jokowi revealed that the reason for not having the iftar together during Ramadan 1444 H for officials and government employees was because it was currently still in the transition from the pandemic to endemic.
This prohibition was stated in the letter of the Cabinet Secretary of the Republic of Indonesia Number 38/Seskab/DKK/03/2023 regarding directions related to holding iftar together, which was signed by Cabinet Secretary Pramono Anung on Tuesday (21/3).
"Currently the handling of Covid-19 is in transition from a pandemic to an endemic, so caution is still needed," said the excerpt from the letter obtained by CNNIndonesia.com, Wednesday (22/3).
"In this regard, the implementation of the Joint Iftar activity during the holy month of Ramadan 1444 H should be abolished," Jokowi wrote.
The directives were addressed to the ministers of the Indonesia Onward Cabinet, the Attorney General, the Commander of the Indonesian Armed Forces, the National Police Chief and heads of other government agencies/institutions.
The ban drew responses from a number of parties. Not a few protested the ban on the joint fast
(df/gil)
(Gambas:Video CNN)