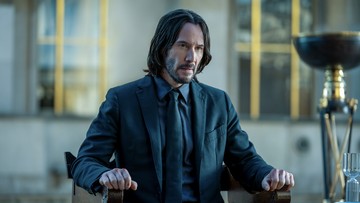 Jakarta, CNN Indonesia —
John Wick: Chapter 4 topped the box office in its opening weekend. John Wick 4 collected over US$73.5 million (US$1=Rp15,171) from the Hollywood box office.
This achievement is a good start for the franchise, which still stars Keanu Reeves. John Wick 4 is also proof of the scarcity of sequels that will perform better than their predecessors in terms of ticket sales.
In 2014, the first John Wick film opened with US$14 million. That first sales figure then increased to US$30.4 million for its sequel, John Wick: Chapter 2 in 2017.
That figure increased again to US$56.8 million for the third film, Parabellum in 2019 and jumped to US$73.5 for the fourth film in 2023.
Meanwhile at the international box office, John Wick 4 grossed US$64 million and debuted at the top position in 71 countries and regions, bringing John Wick: Chapter 4's global debut to US$137.5 million.
"The opening numbers are incredible," said David A. Gross of the film consultancy Franchise Entertainment Research as reported by Variety, Sunday (26/3).
"Every John Wick sequel shows massive growth. It's incredible."
Not only from ticket sales, the warm welcome can also be seen from the reviews given by critics and spectators.
Based on monitoring from the Rotten Tomatoes page on Monday (27/3) afternoon WIB, John Wick 4 received a tomatoometer score of 95 percent from 244 incoming critic reviews.
(Gambas:Video CNN)
That figure is the same as the audience score, 95 percent of the 2,500 reviews that viewers have given on that page.
The score is also the highest of the four John Wick films. Much like its earnings, the John Wick sequel score increased during this time.
The first John Wick film got a tomatoometer of 86 percent, then it increased to 89 percent for the second and third films, and now it has jumped to 95 percent for Chapter 4.
The story of John Wick 4 begins with John (Keanu Reeves) who is preparing himself for revenge after being shot by Winston Scott (Ian McShane) from the roof of The Continental New York and falling from a great height.
John Wick, who has Excommunicado status, then looks for a High Table official. Despite being warned that killing the man would not change the situation, John still pulled the trigger.
This condition had wide-ranging impacts, including the emergence of a member of the High Table named Marquis Vincent de Gramont (Bill Skarsgård).
The Marquis becomes a new threat to John because he has the full support of the High Table council. John Wick now has a new mission: to kill the Marquis, even though the stakes are his own life.
(chri)