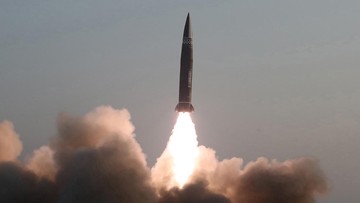 Jakarta, CNN Indonesia —
North Korea again launched two short-range ballistic missiles on Monday (27/3), in the middle of joint military exercises between the United States and South Korea.
"Our military detected two short-range ballistic missiles fired from the vicinity of the Junghwa area in North Hwanghae Province from 7:47 a.m. in the direction of the East Sea," South Korea's Joint Chiefs of Staff said in a report.
"Our military has strengthened surveillance and vigilance against additional launches, while maintaining a full readiness posture through close cooperation between South Korea and the United States."
Japan also confirmed the missile launch. Japanese Defense Ministry officials said the two missiles flew on an irregular trajectory before falling outside Japan's exclusive economic zone, Tokyo media reported.
This is the umpteenth time North Korea has launched missiles in recent weeks, as the US and South Korea hold large-scale military exercises.
On Friday, Pyongyang's state media claimed the joint US-South Korean program was an exercise to "occupy" North Korea.
Pyongyang then staged its own military drills in response. The drills included a test firing of a nuclear-capable underwater drone and the second launch of an intercontinental ballistic missile this year.
(Gambas:Video CNN)
North Korea's state media KCNA also reported that the "underwater nuclear drone" drill supervised by Kim Jong Un was "to warn the enemy of a real nuclear crisis."
The weapon is claimed to be capable of "surreptitiously infiltrating operational waters and generating super-scale radioactive tsunamis to destroy enemy naval groups and key operational ports."
Pyongyang has so far seen joint military exercises between the US and South Korea as preparation for an invasion of its territory. They have repeatedly warned of taking "extraordinary" action in response.
(blq/has)