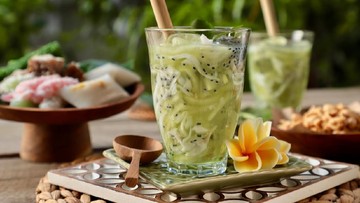 Jakarta, CNN Indonesia —
The fasting worship of Ramadan 1444 Hijri has entered its fifth day on Monday (27/3) today. If you count even 30 days, Eid al-Fitr thus has 25 days left. Hopefully we are still given the strength to continue istikamah.
CNNIndonesia.com again summarizes the schedule for breaking the fast and evening, referring to the official schedule released by the Directorate General of Islamic Community Guidance, Ministry of Religion. Here's the list.
First, in the western part of Indonesia, specifically in DKI Jakarta and its surroundings, sunset falls at 18.04 WIB or one minute earlier than the first two days of Ramadan.
Then shift to Kuningan Regency, West Java, sunset falls at 18.01 WIB. While in Bandung and its surroundings, it will be sunset at 18.05 WIB.
In the Special Region of Yogyakarta, sunset falls at 17.49 WIB. In Purbalingga Regency, Central Java, at 17.53 WIB, and in Surakarta City at 17.47 WIB. In the city of Surabaya and its surroundings, sunset falls at 17.40 WIB, in Sumenep Regency, Madura, sunset falls at 17.37 WIB.
Still in the West, shifting to Sumatra, to be precise in Lhokseumawe City, sunset falls at 18.44 WIB. Meanwhile in Medan City, North Sumatra, sunset at 18.38 WIB.
Second, the Central Indonesian region, to be precise in the City of Banjarbaru, South Kalimantan, sunset arrives at 18.32 WITA. Then in North Penajam Paser Regency, East Kalimantan, sunset at 18.25 WITA.
In Bima Regency, NTB, sunset at 18.16 WITA. In Kupang Regency, NTT, sunset at 17.55 WITA, and in Denpasar City, Bali, at 18.30 WITA.
Third, the eastern part of Indonesia, to be precise in West Halmahera Regency, North Maluku, sunset arrives at 18.42 WIT. In Ambon City, Maluku, sunset at 18.39 WIT, and in Sorong City, West Papua at 18.27 WIB.
(thr/isn)
(Gambas:Video CNN)