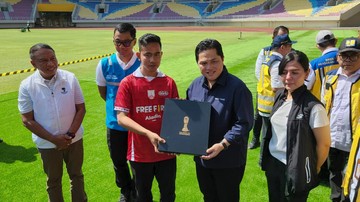 Jakarta, CNN Indonesia —
Solo Mayor Gibran Rakabuming hopes that Indonesia will continue to host the 2023 U-20 World Cup.
The Manahan Stadium in Solo was chosen as one of six potential venues for the 2023 U-20 World Cup. Therefore Gibran hopes that the 2023 U-20 World Cup can still be held in Indonesia according to the initial plan.
The Manahan Stadium in Solo has even been plotted for the final match. Gibran also considered that the U-20 World Cup would have a positive impact on Solo.
"This is not only a football problem but also the rotation of the economy in the city of Solo. If there is a World Cup and we get the chance to host the finals, it will be extraordinary," Gibran said as quoted by Antara.
Gibran stated that his party was currently waiting for developments from FIFA and PSSI regarding Indonesia's status as the host of the World Cup. Gibran stressed that Solo had prepared well.
"I'm just waiting for the official news from FIFA and PSSI. All I know is the cancellation of the draw, in Bali."
"Solo is ready and very ready. FIFA has carried out the final inspection. Solo is also ready to host the final, it is ready," said Gibran.
Indonesia's status as host for the U-20 World Cup is in question after FIFA's decision to cancel the draw for the U-20 World Cup which was supposed to be held on March 31 in Bali.
Exco PSSI, Arya Sinulingga, said that the rejection of Israel's presence in Bali was the reason for this FIFA decision.
(Gambas:Video CNN)
(ptr/nva)