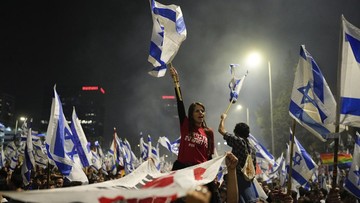 Jakarta, CNN Indonesia —
Former Israeli Prime Minister Yair Lapid also protested against the agenda of the government under Prime Minister Benjamin Netanyahu to overhaul the justice system.
Lapid told parliament that Israel is headed for destruction if Netanyahu's plans materialize.
"We have never been this close to destruction," Lapid said Monday (27/3), as quoted by CNN.
He later said, "What happened here in 24 hours was madness. Lost control and disoriented."
He then said, "That is proof that the government is losing its brakes. This is a danger to the state of Israel, this is a danger to Israel's security. Our home is in danger."
(Gambas:Video CNN)
Israel's national security, he continued, is at risk, the economy will collapse, foreign relations are also at their lowest point.
"We don't know what to say to our children about their future in this country," said Lapid again.
Furthermore, Lapid said extremist groups are holding the country hostage without brakes and without limits. However, he still has a glimmer of hope amidst the grim picture that has already been called.
According to Lapid, in the current ruling party, the Likud Party, there are still people who can stop this plan.
"It's almost too late, but not too late. There are enough good people in Likud who can and should stop this madness," he said.
Lapid also urged Netanyahu to withdraw the dismissal of Israeli Defense Minister Yoav Galant.
Recently, Israel has been in turmoil after Netanyahu plans to overhaul the judiciary. Under the reform, he will give more control to politicians and reduce the role of the Supreme Court.
Galant is one of the figures who reject Netanyahu's plan. Not only him, Israeli President Isaac Herzog also urged Netanyahu to cancel the judicial plan.
In addition, people also staged protests in Israel against these changes.
"The growing social rifts are allowing (soldiers) and security agencies to enter. This is a clear, direct and real threat to Israel's security," Gallant said.
The newly sacked defense minister said he was committed to the values ​​of the Likud Party and placing Israel above all else.
"But major changes at the national level must be made through deliberations and dialogue," he said.
(isa/bac)