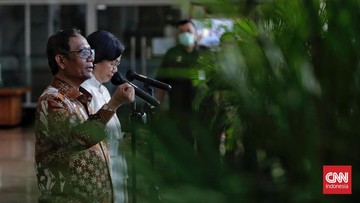 Jakarta, CNN Indonesia —
The Coordinating Minister for Political, Legal and Security Affairs Mahfud MD was involved in an exchange of sarcasm with three board members from Commission III of the DPR ahead of a meeting to discuss the Rp349 trillion odd transaction at the DPR this week.
The act of sarcasm began after Commission III canceled the scheduled meeting twice. Initially, the Commission III meeting with Mahfud was held on Tuesday (21/3) with the Financial Transaction Reports and Analysis Center (PPATK).
However, the meeting with Mahfud was canceled due to technical problems with the correspondence. The DPR only held a meeting with PPATK, while the meeting with Mahfud was postponed to Friday (24/3). After that, the scheduled meeting with Mahfud was again canceled and rescheduled for Wednesday (29/3).
In the aftermath of the agenda of the hearing meeting (RDP) going back and forth, Mahfud made sarcasm via his Twitter account on Sunday (26/3). He hopes the meeting will not be canceled again. He also challenged three members of Commission III to attend.
The three respectively, Benny K Harman from the Democratic faction, Arsul Sani from PPP, and Arteria Dahlan from the PDIP faction. Mahfud asked the three not to make excuses for being absent from the meeting.
"I am ready to attend. I challenge Benny K. Harman is also present and there is no excuse for having other assignments. So are Arteria and Arsul Sani. Don't look for reasons to be absent," Mahfud tweeted.
The open challenge was welcomed by Benny and Arsul. Benny admitted that he was ready to attend and argue with the government over the polemic over the Rp. 349 trillion odd transaction at the Ministry of Finance which has been busy lately.
Benny admits that he doesn't want the DPR to just be branded as a stamp man. He was ready to welcome Mahfud to the DPR.
"With joy and joy we welcome his arrival. In the interests of the people, we are ready to compete with Logic, argue and fight for equality with Pak Mahfud," said Benny, Sunday (26/3).
Meanwhile, DPR Commission III member Arsul Sani asked Mahfud MD to provide a long time at the meeting which the Minister of Finance Sri Mulyani plans to attend as well.
The Deputy Chairperson of the PPP confirmed that he would attend the meeting. Moreover, the hearing meeting is part of the committee's agenda.
"We also hope Mr. MMD will provide the time needed for a meeting to discuss the issue of this suspicious transaction," Arsul told CNNIndonesia.com, Sunday (26/3).
Until this news was written, there had been no statement from PDIP politician Arteria Dahlan regarding Mahfud's challenge. CNNIndonesia.com, has contacted him via text messages and telephone but received no response.
(thr/DAL)
(Gambas:Video CNN)