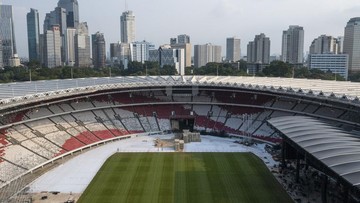 Jakarta, CNN Indonesia —
The existence of the Israeli national team at the 2023 U-20 World Cup has been a polemic in Indonesia since they confirmed their qualification.
Israel U-20 confirmed that they will appear at the 2023 U-20 World Cup on June 25 2022. This news was obtained after Serbia lost 2-3 to Austria, although they also lost 0-1 to England.
Serbia's defeat made Israel runner up in Group B for the 2022 U-19 European Cup. Israel also automatically has a ticket to qualify for the 2023 U-20 World Cup which will take place in Indonesia.
This news immediately became a hot topic of conversation in Indonesia. PSSI Chairman at that time, Mochamad Iriawan said Israel could play in Indonesia because it was guaranteed by the government.
"Regarding Israel, I think there was an agreement with the government last year (2021). Anyone who comes can play. Israel is still our accommodation," said Iriawan on June 26, 2022.
On the same day, the then Menpora Zainudin Amali also guaranteed that Israel would be able to come to Indonesia. The minister from Gorontalo asked for political and sports affairs to be separated.
"We have discussed it since 2019. All countries that have qualified to participate in the 2023 U-20 World Cup are welcome to play. Surely our security forces will provide a sense of security," said Amali.
The quick statements of the two agencies most closely related to the 2023 U-20 World Cup did not necessarily dampen the polemic. In fact, rejection after rejection emerged from society.
One community group that rejects the presence of Israel U-20 in Indonesia is the Medical Emergency Rescue Committee (MER-C). They held a press conference on 29 June 2022i.
After that, one by one, community groups began to dare to express opposition. Mainly the rejection is done through social media and open release to the national mass media.
But this issue has not resonated with a ferocious. Only occasionally is there a discussion of the U-20 Israel's rejection. The polemic escalated after the Governor of Bali wrote a letter to the Menpora on March 14, 2023.
In a letter addressed to Zainudin Amali, Bali Governor Wayan Koster refused to allow Israel to play in Bali. Koster's rejection was ideological, as was President Soekarno's message.
Before Koster wrote the letter, actually PDI Perjuangan politicians had tweeted on social media about Israel's rejection. It's like a small command for the authorities in the area.
Read the continuation of this news on the next page>>>
A Line of Threats of Sanctions Awaits Indonesia
READ THE NEXT PAGE