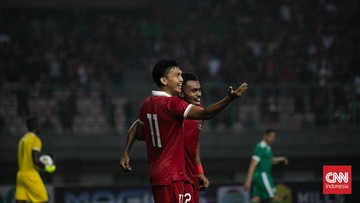 Jakarta, CNN Indonesia —
The coach of the Indonesian National Team Shin Tae Yong emphasized that he would continue to attack even though Burundi appeared with their best strength in the second FIFA Matchday match at Patriot Candrabhaga Stadium, Bekasi, Tuesday (28/3).
Indonesia successfully won 3-1 in the first match against Burundi which took place on Saturday (25/3). Yakob Sayuri, Dendy Sulistyawan and Rizky Ridho scored Indonesian goals.
Shin warned his team not to let their guard down in the second fight. Garuda's attack line has been prepared to play more effectively in front of the opponent's goal.
"Moreover, we are playing at home, so I really have the desire to win tomorrow. So we will definitely focus on attack so we can win tomorrow," Shin said as quoted by Antara from the Jakarta International Stadium (JIS) training ground, Jakarta, Monday (27/3).
The South Korean coach assessed that Burundi had not fielded their best squad in the first match, including their star player Saido Berahino. However, he has prepared a new scenario to gain a second victory.
"So, based on the analysis of the match, I saw that yesterday's match 70 to 80 percent of the squad (Burundi team) had already been played, and in the second half, the core players had only played."
"Surely the opponent will also show their best, definitely better than yesterday's game for sure. So we are not only wary of one player, but all players will also be wary of," said the coach from South Korea.
Shin also explained that he would not play naturalized player Shayne Pattynama who had just arrived in Jakarta. Shayne's arrival is purely to complete the Indonesian passport.
"Yesterday, I met Shayne in person. Shayne was welcomed very well. Indeed, the reason (he) came to Indonesia was to look for a passport. So this is also the final process, the final naturalization process," said Shin.
(Gambas:Video CNN)
(jun)