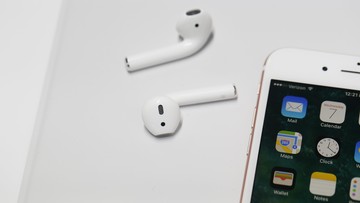 Jakarta, CNN Indonesia —
Technology manufacturer from the United States (US) Apple is said to be releasing a wireless headset, AirPods generation 2 with a USB-C casing this year.
This was revealed by Apple product leaker Ming-Chi Kuo via his Twitter account. He believes Apple could ship AirPods with a USB-C case in the second and third quarters of this year.
"I think it looks like this is a version of AirPods Pro 2 with USB-C. Massive distribution is expected in the second quarter of 2023 and third quarter of 2023. By the way, Apple currently has no plans to release a USB-C version for AirPods 2 and 3," wrote Ming in reply to the upload of Twitter user @aaronp613.
In the upload, the account refers to the latest AirPods model number A3048, along with the AirPods case model (A29680) on iOS 16.4
Apple launched the second generation of AirPods Pro last September, which comes with a Lightning port for its charger and compatibility with MagSafe, Qi, and Apple Watch chargers.
Apple also introduced several other new features with the case, including a speaker that makes a sound when searching through the Find My app, as well as a case for users to attach a lanyard.
Despite Kuo's predictions, it's still unclear whether the updated AirPods Pro 2 will come with additional changes. Alternatively, Apple will also sell the rumored USB-C case separately.
I think this is likely the USB-C version of the AirPods Pro 2, with mass shipments expected in 2Q23-3Q23. By the way, Apple currently appears to have no plans for USB-C versions of the AirPods 2 & 3.
I think this should be AirPods Pro… https://t.co/aWKJvGh1lW
— Ming-Chi Kuo (@mingchikuo) March 24, 2023
Apple itself has released new versions of its AirPods charging cases in the past, such as the MagSafe case option it introduced for the AirPods Pro in 2021, and last year's Lightning-only charging case for the third-generation AirPods.
With the European Union's USB-C charging port rules implementing new types of electronic devices next year, it's no surprise that Apple is moving away from the Lightning port.
Apple confirmed last year that it plans to change the iPhone connector to USB-C, and rumors suggest the iPhone 15 will come with the port according to a report by GSM Arena.
As for the accessory suite, Bloomberg's Mark Gurman predicts Apple could bring USB-C to AirPods and Mac accessories by 2024.
Meanwhile, Kuo has previously reported that the fourth-generation AirPods could come with a USB-C charging case and could launch in the second half of 2024 or the first half of 2025.
(can/lth)
(Gambas:Video CNN)