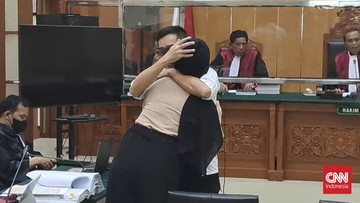 Jakarta, CNN Indonesia —
The suspect, former Bukittinggi Police Chief AKBP Dody Prawiranegara, was charged with 20 years in prison and a fine of Rp. 2 billion, a subsidiary of 6 months in prison, in a drug case involving former West Sumatra Police Chief Inspector General Teddy Minahasa.
The public prosecutor (JPU) considered that Dody was legally and convincingly proven to have illegally or unlawfully become an intermediary in buying and selling, exchanging, or handing over narcotics type 1 weighing more than 5 grams.
"Determine the sentence against the defendant Dody Prawiranegara with imprisonment for 20 years and a fine of Rp. 2 billion, a subsidiary of 6 months in prison minus the period of confinement that has been served," said the prosecutor while reading out the indictment at the West Jakarta District Court, Monday (27/3) .
Dody is considered proven guilty of violating Article 114 Paragraph (2) of the Republic of Indonesia Law Number 35 of 2009 concerning Narcotics in conjunction with Article 55 Paragraph (1) 1st of the Criminal Code.
The prosecutor also revealed things that were aggravating and mitigating for Dody.
The burdensome thing is that Dody is a member of the police with the position of Head of the Bukittingi Police, but is involved in drug trafficking. Dody's actions are considered to have undermined the trust in law enforcement officials, especially the National Police.
While mitigating things, Dody is admitting and regretting his actions.
Dody is not alone in this drug case. Teddy Minahasa was also charged with trading in 5 kilograms (kg) of methamphetamine evidence confiscated by the Bukittinggi Police.
This crime also involved Kompol Kasranto, Aiptu Janto P. Situmorang, Linda Pujiastuti alias Anita, Muhammad Nasir, and Syamsul Maarif.
This case began when the Bukittinggi Police uncovered drug trafficking and seized 41,387 kg of methamphetamine as evidence on May 14, 2022. Dody, who was then the Bukittinggi Police Chief, reported the case to Teddy Minahasa, who was then the West Sumatra Regional Police Chief.
Teddy then ordered Dody to round up the methamphetamine evidence to a weight of 41.4 kg, and asked Dody to exchange the methamphetamine for 10 kg of alum.
(gil)
(Gambas:Video CNN)