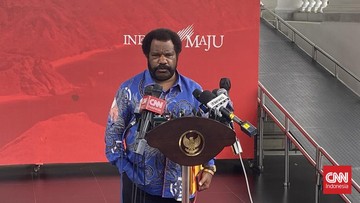 Jakarta, CNN Indonesia —
The head of the Papuan Indigenous Peoples' Institute (LMA) Lenis Kogoya stated that the Kogoya clan was ready to help free Susi Air pilot Philip Mark Mehrtens.
Lenis made the statement while meeting President Jokowi at the Jakarta Presidential Palace. Lenis suggested to Jokowi that this problem be resolved without violence.
"We, the Kogoya clan, intervened so that we invite them not to kill, it's not good," Lenis said after meeting Jokowi at the Presidential Palace Complex, Central Jakarta, Monday (27/3).
He said representatives of the Kogoya clan would visit the headquarters of the Free Papua Organization (OPM) – Indonesian officials refer to the OPM mailing list as an Armed Criminal Group – in the near future. They would lobby Egianus to release Philip without coercion.
Lenis believes Egianus and OPM have the same goal as other Papuan people, namely welfare. However, OPM and Egianus took a different path by separating Papua from Indonesia.
Lenis will invite the OPM coach to join the Indonesian government. Instead, Egianus and his friends could participate in building new provinces through the DPRD.
He encouraged all parties to end the conflict in Papua. Lenis wants all elements of the Indonesian nation to develop Papua together.
"Earlier, Mr. President, we conveyed that in Papua there will be no more massacres, but peace must be prioritized," he said.
Previously, Susi Air pilot Philip Mark Merthens was taken hostage by OPM. The hostage-taking was carried out after the OPM attacked a Susi Air plane at Paro Airport, Nduga, 7 February.
Philip has been under OPM captivity for about 1.5 months. The Coordinating Minister for Political, Legal and Security Affairs Mahfud MD said that the TNI and Polri almost stormed the OPM headquarters to save Philip. However, this intention was canceled because New Zealand wanted its citizens to return safely.
(dhf/kid)
(Gambas:Video CNN)