Jakarta — BMW Astra held the handover of 17 units of BMW iX electric cars to their owners, Tuesday (21/3/2023) at BMW Astra Serpong, BSD City, Tangerang.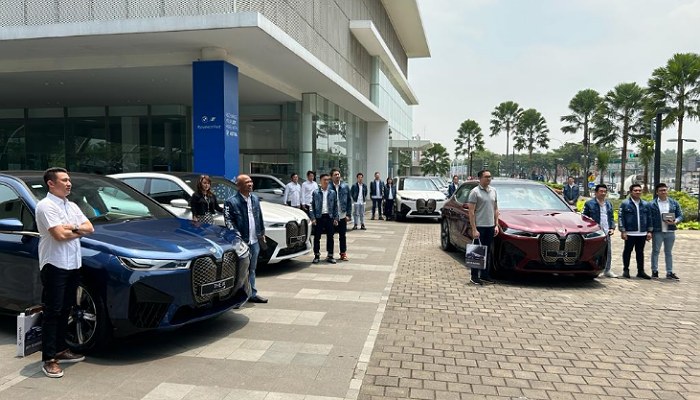 BMW Astra said that the handover ceremony for the BMW iX was the first time in Indonesia since the car was launched in August 2022.
"BMW Astra is proud to be the first official BMW I dealer in Indonesia, today able to hand over this highly desirable BMW electric SAV to the first 17 BMW iX buyers in Indonesia," said BMW Astra Chief Executive Sanfrantis Tanu.
He explained that this effort is in line with BMW Astra's commitment to become the first official dealer in Indonesia that has facilities and access to BMW i cars.
With its position as an official dealer, BMW Astra ensures its readiness in terms of aftersales.
This includes workshop facilities and the readiness of technicians to handle the BMW iX and electric cars from both the BMW and MINI brands.
"All official BMW Astra workshops in Indonesia have technicians who have received Gen 5 certification from BMW AG," continued Sanfrantis.
It is known, this certification is the main requirement so that a technician can handle the latest BMW and MINI electric cars.
"In addition, we have also equipped all BMW Astra branches in Jakarta and Surabaya with special facilities and equipment to handle the latest BMW and MINI electric vehicles," he said.
BMW iX Electric Car Warranty and Aftersales Service
BMA Astra also emphasized that for every purchase of a BMW i electric car at a dealer, consumers will get BMW Service Inclusive for 6 years.
This is coupled with a 5-year warranty, 8-year battery guarantee, 24-hour roadside assistance for 5 years, and BMW Astra Card membership.
For information, the BMW iX itself was officially launched in Indonesia on August 11 at the GIIAS 2022 exhibition.
This car is only available in 1 variant, namely the xDrive 40.
The maximum mileage can reach 425 km.
Based on the records, this car was sold at Rp. 2.2 billion.
Author: Mada Prastya
Editor: Dimas
Download the Carmudi App to Get the Best New & Used Car Rows and the Latest Automotive Information!


Post Views: 709