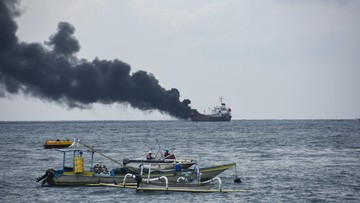 Jakarta, CNN Indonesia —
Pertamina said it had installed oil boom equipment due to the burning of the MT Christin Ship carrying fuel oil (BBM) in the waters of the Lombok Strait, West Nusa Tenggara (NTB), on Sunday (26/3) afternoon.
This was conveyed by the Interim Officer (Pjs) Area Manager Communication Relations and CSR Pertamina Patra Niaga Jatimbalinus, Taufik Kurniawan.
"We have installed an oil boom around the ship so that there will be no oil spill into the sea. We have been monitoring since the afternoon, with the oil boom installed, we have not monitored any oil spills," said Taufik Kurniawan in Denpasar, Bali, Sunday (26/3 ).
"However, as a preventive measure, we still install oil booms to prevent any oil spills that may disturb the marine ecosystem," he added.
On the same occasion, Taufik also revealed the condition of the victims. A total of 14 crew members (ABK) survived the incident and are currently undergoing recovery.
"The 14 survivors are currently still recovering at the Ampenan BBM Terminal and there are no serious injuries or anything else. So no one has been rushed to the nearest hospital," he said.
"All the conditions of the 14 crew members who survived were in good condition and are currently in the process of recovery and identification of the data for the crew members' families for us to convey," continued Taufik.
Meanwhile, there are still three crew members who are still being searched for by the SAR team. He hopes the three crew members can be found as soon as possible.
"For the (three) victims, we convey that there is no update. Their status is still under search involving the SAR team and we pray that the search can find good news soon," he explained.
Previously, the incident occurred on Sunday at 14.45 WITA. The plan is for the tanker to transport 5,900 kiloliters of pertalite fuel oil to distribute it at the Pertamina Ampenan depot.
(Gambas:Video CNN)
The explosion occurred when the ship was waiting in line in Ampenan waters. At that time, three crew members headed to the front of the ship to drop anchor.
Based on reports from residents of the Ampenan coast, Mustofa explained, there was a sound of explosion which was thought to have come from the ship, causing flames to be seen with thick clouds of smoke.
The explosion also caused the front of the tanker to catch fire.
(kdf/pra)
(Gambas:Video CNN)