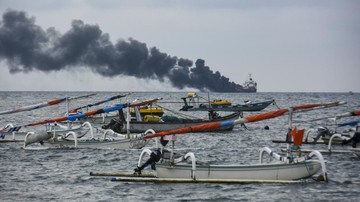 Jakarta, CNN Indonesia —
Pertamina Patra Niaga revealed that the ship MT Christin carrying fuel oil (BBM) which caught fire in the waters of Mataram, West Nusa Tenggara (NTB), had been successfully extinguished.
Acting Area Manager Communication Relations and CSR Pertamina Patra Niaga Jatimbalinus, Taufik Kurniawan, said that cooling was currently underway so the fire would not reappear.
"Currently the fire has been extinguished at 21.00 and is being cooled down to ensure the fire will not reappear. The Pertamina International Shipping team used a tug boat belonging to Pelindo and from Patra Niaga backed up with tug boats from Ampenan and Manggis, Bali," said Taufik Kurniawan in a written statement received by CNNIndonesia.com, Sunday (26/3).
The temporary monitoring results, continued Taufik, showed that there was no oil spill in the waters.
"However, to anticipate that around the ship an oil boom has been installed from Patra Niaga Ampenan so that if there is a spill it can be localized," he explained.
Taufik also said that the supply of fuel in the Lombok area was safe after the burning incident on the MT Christin ship.
"We ensure that the supply of fuel for the Lombok region is safe. The supply of fuel for Lombok through the Ampenan Integrated Terminal and the Sanggar BBM Terminal, Bali, is ensured to be safe with the current Pertalite stock position of 4,200 KL in Sanggar, while in Ampenan the Pertalite stock is 3,200 KL. ," he said.
Previously, the incident occurred on Sunday at 14.45 WITA. The plan is for the tanker to transport 5,900 kiloliters of pertalite fuel oil to distribute it at the Pertamina Ampenan depot.
The explosion occurred when the ship was waiting in line in Ampenan waters. At that time, three crew members headed to the front of the ship to drop anchor.
(Gambas:Video CNN)
Based on reports from residents of the Ampenan coast, Mustofa explained, there was a sound of explosion which was thought to have come from the ship, causing flames to be seen with thick clouds of smoke.
The explosion also caused the front of the tanker to catch fire.
(pra)
(Gambas:Video CNN)