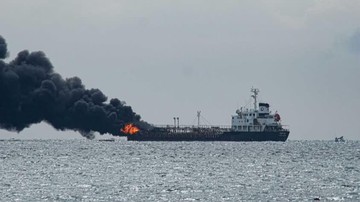 Bali, CNN Indonesia —
Pertamina Patra Niaga said the fire on the MT Kristin ship transporting fuel in Mataram waters, NTB, did not disrupt the supply of fuel to Bali.
The ship is carrying a cargo of 5,900 kiloliters of BMM of the Pertalite type, which was originally going to supply 2,700 kiloliters to the Ampenan Fuel Terminal.
"And the rest after that he will continue his journey to the Sanggar BBM Terminal in Denpasar," said Acting Area Manager Communication Relations and CSR Pertamina Patra Niaga Jatimbalinus, Taufik Kurniawan, in Denpasar, Bali, Sunday (26/3).
Taufik said that people in the Bali region, including on the island of Lombok, need not worry because Pertalite fuel stocks are safe and are not disturbed by the burning incident.
"Because during real time the stock at the Ampenan BBM Terminal is 3,200 kiloliters with a stock resistance of up to three days, but it will fluctuate because goods are coming in and out," he said.
According to Taufik, the stock of Pertalite fuel at the Sanggar BBM Terminal in Denpasar is 4,200 kiloliters with a shelf life of up to four days.
On the other hand, said Taufik, his party will also send additional Pertalite supplies by land from the Manggis BBM Terminal, Karangasem Regency, while waiting for the ship to dock at the Sanggar BBM Terminal tomorrow.
"By carrying a load of 1,000 kiloliters. So with the capacity to thicken the stock earlier, we will ensure that fuel stocks in the Bali area and also in Lombok are safe," he said.
Furthermore, Taufik said the three crew members who jumped into the sea during the fire incident were still being searched by the joint SAR team. While 14 other crew members survived and were evacuated.
"For the three crew members, the information is still being searched if someone (says) died is not yet valid," he said.
The MT Kristin ship is a ship owned by PT Hanlyn Jaya Mandiri which is currently being chartered by PIS to transport fuel to TBBM Ampenan and TBBM Sanggar.
Information regarding the three crew members who reportedly died in the MT Kristin Ship fire was conveyed by the NTB Regional Disaster Management Agency (BPBD) Fire Department Dady Sukmawan.
"The information I received is that three crew members died. Some have been evacuated to Ampenan Beach. A total of 17 crew members," Dady said as quoted by Antara.
Mataram SAR Office Public Relations I Gusti Lanang Wiswananda said the Pertamina fuel carrier caught fire in waters not far from the Mataram City Ampenan BBM Terminal, NTB, at around 15.30 WITA.
As of this afternoon, the fire was still burning. The ship had also moved away from the Pertamina Ampenan Depot to avoid an explosion because there were also fishing boats in the vicinity
(kdf/from)
(Gambas:Video CNN)