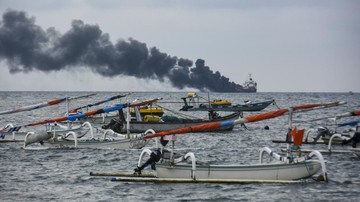 Jakarta, CNN Indonesia —
PT Pertamina International Shipping (PIS) denied that three crew members (ABK) died in a fire on the MT Kristin ship carrying fuel in the waters of Mataram City, NTB.
Public Relations of PIS Roberth Marcelino said the three crew members were still being disbursed because they jumped into the sea during the fire incident. While 14 other crew members were evacuated with the help of local fishermen.
"There is no information on three dead yet, because to be precise, the 'abandon ship' plunged into the sea and out of a total of 17 crew 14 have been evacuated, the three mentioned earlier are still in the search stage," Robert told CNNIndonesia.com.
Robert said that currently the surviving crew are at the Ampenan fuel oil terminal (TBBM).
Robert explained that the initial suspicion that the fire occurred was due to a fire originating from the forecastle or the front mooring deck when the ship was anchoring.
He said the PIS Emergency Response Team continued to coordinate with the local Kesyahbandaran and Port Authority (KSOP) office, Pelindo, and other authorities for the evacuation process, management of ship crews and blackouts.
"PIS emphasizes the need to prioritize and call for the importance of safety aspects in all operational activities both for the ship's crew and also ensuring the cargo of the ship's cargo," he said.
The MT Kristin ship is a ship owned by PT Hanlyn Jaya Mandiri which is currently being chartered by PIS to transport fuel to TBBM Ampenan and TBBM Sanggar.
Previously, information about the three crew members who reportedly died in the MT Kristin Ship fire was conveyed by the NTB Regional Disaster Management Agency (BPBD) Fire Department Dady Sukmawan.
"The information I received is that three crew members died. Some have been evacuated to Ampenan Beach. A total of 17 crew members," Dady said as quoted by Antara.
Mataram SAR Office Public Relations I Gusti Lanang Wiswananda said the Pertamina fuel carrier caught fire in waters not far from the Mataram City Ampenan BBM Terminal, NTB, at around 15.30 WITA.
As of this afternoon, the fire was still burning. The ship had also moved away from the Pertamina Ampenan Depot to avoid an explosion because there were also fishing boats in the vicinity.
(mrh/from)
(Gambas:Video CNN)