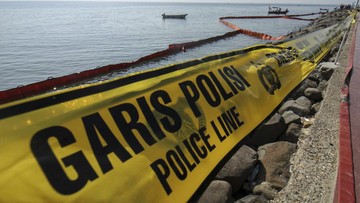 Jakarta, CNN Indonesia —
A firecracker exploded in Magelang, Central Java, on Sunday (26/3). This incident was reported at 20.10 WIB.
Head of Central Java Regional Police Public Relations Commissioner Iqbal Alqudusy confirmed this information.
"There was an explosion of firecrackers in one of the houses in Kaliangkrik District, Magelang Regency," Iqbal said as quoted by detik.com on Sunday (26/3).
The explosion left one person dead and three people injured.
The victim who died was named Mufid (33) who is a resident of Giriwarno Village. Meanwhile, the injured victims were Nurhayah (41), Naela (17) and Nailatul (18). The injured victims were referred to the Magelang Hospital.
In addition, the incident caused dozens of houses damaged.
(Gambas:Video CNN)
"One person died, five houses were heavily damaged, six (houses) were slightly damaged," said Iqbal.
Until 23.15 WIB, the team from the Central Java Regional Police and the Magelang Police were at the scene to carry out processing of the crime scene (TKP).
"Currently the Jibom Gegana Team of the Central Java Police Mobile Brigade and the Head of Dokes and the team are at the TKP. With the inafis of the Magelang Police, Kapolresta Kombes Ruruh Wicaksono, and members at the TKP," explained Iqbal.
(pra)
(Gambas:Video CNN)