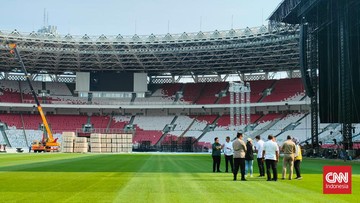 Jakarta, CNN Indonesia —
FIFA has officially canceled the draw for the 2023 U-20 World Cup which was previously scheduled to take place in Bali on 31 March 2023.
The draw for the 2023 U-20 World Cup planned to be held on Saturday (31/3) in Bali has been officially cancelled.
This was conveyed by Exco PSSI member, Arya Sinulingga in a press conference that was held on Sunday (26/3).
"Yesterday we received information from FIFA, in the notification it stated that the draw in Bali had been canceled by FIFA. So this is the information we got from FIFA. Indeed we have not received an official letter from FIFA, but the message is clear because of the rejection from the governor of Bali. who rejected the Israeli team so that the draw itself could not be held without all the participants," said Arya.
In the drawing, a total of 24 countries from the six confederations will be drawn in the group stage. The U-20 Indonesian National Team is in Pot 1 because it is the host.
The U-20 World Cup itself is planned to be held in Indonesia from 20 May to 11 June 2023.
There are six stadiums prepared to hold the U-20 World Cup in Indonesia, namely the Bung Karno Senayan Main Stadium, Bung Tomo Stadium, Si Jalak Harupat Stadium, Manahan Solo Stadium, Captain I Wayan Dipta Stadium, Gianyar, and Palembang Sriwijaya Stadium.
Now the U-20 Indonesian National Team is also continuing to make preparations ahead of appearing at the U-20 World Cup. It is planned that Shin Tae Yong will bring the U-20 Indonesian National Team squad to undergo the final training camp (TC) in South Korea in early April.
(rhr)