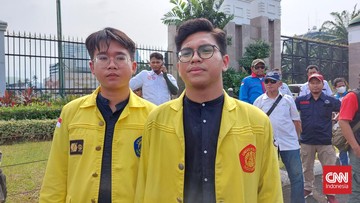 Jakarta, CNN Indonesia —
Chairman of the University of Indonesia Student Executive Body (BEM UI) Melki Sedek Huang assessed that the Special Staff of the Minister of State Secretary Faldo Maldini had attempted to divert the main issue of public criticism of the ratification of the Government Regulation in lieu of the Job Creation Law or Perppu Ciptaker which had been approved to become Law (UU). ).
Faldo previously said BEM UI was like a foreign-funded non-governmental organization (NGO) and an anti-government group. This statement was made by Faldo in response to BEM UI Perppu Ciptaker's criticism.
Melki called Faldo's statement only a diversion from the main issue, namely the rejection of the Job Creation Law.
"For us, these are attacks that deliberately divert us from the main topic of criticism of the Job Creation Perppu," said Melki in front of the DPR RI Building, Sunday (26/3).
He also reminded all political parties, government officials, political elites, and members of the DPR should be able to respond to criticism according to substance.
According to Melki, arguments must be answered with arguments, not insults or even deploying buzzers on social media.
Previously, Faldo Maldini said BEM UI was like a foreign-funded NGO and an anti-government group.
"The narrative is similar to that of foreign-funded NGOs, as well as anti-government groups whose origins were not Jokowi from the start, so that their trade can be sold in 2024," Faldo said in a written statement, Thursday (23/3).
The former Head of BEM UI believes UI students are actually smart. However, he thinks that the current BEM UI is often naive.
Faldo sees many interests taking advantage of BEM UI's struggles. Therefore, he considered the student organization to be like an NGO.
Furthermore, Faldo explained that the ratification of the Perppu Ciptaker into law had been carried out according to procedure. He questioned the reason why BEM UI was only busy now.
BEM UI itself previously uploaded memes in a series of criticisms of the ratification of the Perppu Ciptaker into law. The meme is in the form of an animation depicting the DPR-MPR building.
The building cracked and rats appeared. At the end of the video, there is a rat with the face of DPR Speaker Puan Maharani. BEM UI includes the description "People's ROBBER COUNCIL".
"We need the DPR as representatives of the people, not as robbers of their own people," he added.
Meanwhile, the Perppu on Job Creation was passed into law by the DPR in less than two months since the Presidential Letter (Surpres) was sent to the DPR on 7 February.
(ryn/gil)
(Gambas:Video CNN)