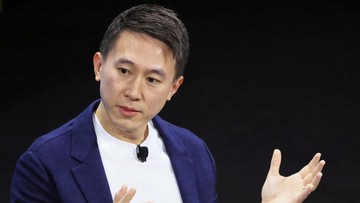 Jakarta, CNN Indonesia —
TikTok CEO Shou Zi Chew has been in the public eye after sitting in the 'hot seat' at the United States (US) Congress, last Thursday (23/3). Chew was bombarded with questions by the US parliament for approximately five hours.
The US Parliament has criticized the protection of the data of TikTok application users, especially in the US, which has approximately 150 million active users. The parliamentarians were worried given the unfavorable relations between the US and China so far.
CNN has summarized the five points of conclusion in the US Congress meeting with the boss of TikTok, as follows:
1. Parliament aggressively bans TikTok in the US
Lawmakers from the start looked aggressive in banning the TikTok application in Uncle Sam's country. Washington Republican Representative and US House of Representatives Energy and Commerce Speaker Cathy McMorris Rodgers opened the hearing by telling Chew, "Your platform should be banned."
Chew then opened his presentation by emphasizing that his company, ByteDance, did not cooperate with the Chinese government. He also ensured that the application would not pose a threat to national security.
"TikTok itself is not available in mainland China, we are headquartered in Los Angeles and Singapore, and we have 7,000 employees in the US today," he said in his opening remarks.
However, Chew understands that there are concerns regarding the potential for unwanted foreign access to US data and the potential manipulation of the US TikTok ecosystem.
Chew then guaranteed that his application would continue to protect US user data, maintain the security of teenage users, and remain free from government influence.
"Our approach has never ignored or underestimated any of these problems. We have dealt with them with real action," he said.
Even so, Chew's attempts to emphasize that his company is not part of the Chinese government seem to go unnoticed. Many members of Congress interrupted Chew's testimony and said they did not believe it.
"To the Americans watching today, hear this, "TikTok is a weapon by the Chinese Communist Party to spy on you, manipulate what you see, and exploit it for future generations," Rep. McMorris Rodgers told the hearing.
California Democratic Representative Anna Eshoo also disagrees with Chew's claim that guarantees the data security of US users and the Chinese government which, according to Chew, does not have access to the TikTok application data.
"I think that's completely ridiculous," Eshoo said.
"I checked, and I don't see any evidence of this happening," replied Chew.
"Our commitment is to move their data to the US, to be stored on US soil by US companies, and monitored by US personnel. So the risk will be similar to any government going to a US company and requesting data," Chew continued.
"I don't believe TikTok, that you have said or done something to convince us," Eshoo replied.
2. TikTok emphasizes that the work of the application is no different from that of the US technology giant
Chew further emphasized that the data collected in the TikTok application is data that is often collected by many other companies in the technology industry.
"We are committed to being very transparent with our users about what we collect," said Chew. "I can't believe what we put together is more than most players in the industry," he continued.
That claim is supported by independent researchers who have supported Chew's assertion. In 2020, The Washington Post worked with privacy researchers to look under the hood for TikTok.
They then concluded that the app did not appear to collect any more data than users' mainstream social networks. Then the following year, Pellaeon Lin, a Taiwan-based researcher at the University of Toronto's Citizen Lab, conducted another technical analysis that reached a similar conclusion.
Nevertheless, TikTok still collects about the same amount of information as Facebook or Twitter. This data includes information about the videos that users watch, comments that users write, private messages that users send.
And if the user agrees to provide geolocation access and the user's contact list on the Smartphone. Even in this case, Chew claims that the current version of TikTok does not collect precise GPS information from US users.
TikTok Viewed as Bad Influence on Children
READ THE NEXT PAGE