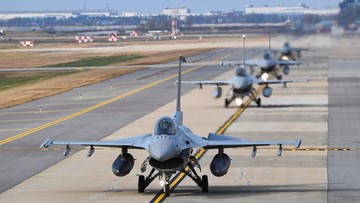 Jakarta, CNN Indonesia —
The Korean peninsula heats up again after North Korea and South Korea sent hundreds of fighter jets to each other on Friday (4/11).
On Friday (4/11) North Korea sent 180 fighter jets near South Korea. The jet is pacing 20 kilometers from the Military Demarcation Line (DMK) to the north.
Not accepting, Seoul then responded by sending 80 fighter jets, including the United States-made F-35 A.
The North's provocation came after 240 fighter jets flew in a joint US-South Korean military exercise called the Storm Alert air war.
Two days earlier, Kim Jong Un's government launched a total of 30 missiles and 80 artillery pieces.
Pyongyang's provocation came after South Korea and the US agreed to extend joint military exercises on the Korean Peninsula.
These conditions make the Korean Peninsula like a war alert.
Apart from that, how does the military strength of North Korea and South Korea actually compare?
[Gambas:Video CNN]
South Korean Military
According to the World Military Powers Watch site, Global Fire PowerSouth Korea was ranked sixth in terms of defense strength.
Seoul has a total personnel of up to 1.1 million. Of this number, there are 555 thousand active soldiers, and 500 thousand reserve soldiers.
In terms of weaponry, the South Korean Air Force has 1,595 aircraft, 289 training aircraft, 112 attack helicopters, and 402 fighter jets.
They also have 30 units of special mission aircraft, 90 units of special attack jets, 4 units of the tanker fleet, 41 units of transport aircraft, and 739 units of helicopters.
The South Korean Army also has weapons that are no less sophisticated.
The armaments include 2,624 tanks, 13,990 armored vehicles, 574 rocket projectors, 3,040 self-propelled artillery, and 3,854 towed artillery units.
Meanwhile, the Seoul Navy has 18 frigates, 13 mine warships, 11 corvettes, 12 destroyers, 2 helicopter carriers, 111 patrol boats, and 22 submarines. However, South Korea does not have an aircraft carrier until now.
From a budget perspective, South Korea has spent US$46 billion or around Rp723 trillion for defense.
In addition to its own strength, South Korea is also in an alliance with the United States. South Korea also often gets weapons and defense assistance from Uncle Sam's country when facing North Korea's threats.
How is the strength of Kim Jong Un's country? Read on the next page >>>
North Korea vs South Korea Military Battle, Who is Stronger?
READ NEXT PAGE
fbq('init', '1047303935301449'); fbq('track', "PageView");