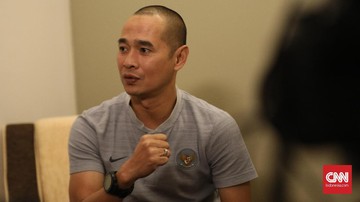 Jakarta, CNN Indonesia
—
Indonesian National Team Legend Kurniawan Dwi Yulianto join the Joint Independent Fact-Finding Team or TGIPF, to investigate The Tragedy of Kanjuruhan.
Kurniawan, nicknamed The Skinny, is the representative of former Indonesian footballers who are members of TIPF. Meanwhile, Coordinating Minister for Political and Legal Affairs Mahfud MD is the head of the fact-finding team.
"For the first action in the short term in the next 2-3 days. The National Police must announce measures to control and enforce the law," said Mahfud at a press conference in Jakarta, Monday (3/10).
"The determination of the status of the suspect for the perpetrators of the field riots is sufficient for two pieces of evidence," he added.
The Kanjuruhan tragedy occurred after the fans entered the field after Arema lost 2-3 to Persebaya in the Liga 1 continuation at the Kanjuruhan Stadium, Saturday (1/10).
Then the security forces tried to defuse the chaos by firing tear gas at the spectators who entered the field and the stands. The audience panicked so that there was a stampede at the stadium doors which ended tragically.
The tragedy in Kanjuruhan has left a black mark on the world of sports in the country. So far, the government has recorded that 125 people have died, 21 people were seriously injured, and 304 people were lightly injured.
During the press conference session, Mahfud also announced a list of the names of the leaders and members of TGIPF. Former Indonesian national team player Kurniawan Dwi Yulianto and former PSSI administrator who has a FIFA Security Officer license, Nugroho Setiawan joined the team.
The following is a list of the names of the TGIPF members of the Kanjuruhan Tragedy
1. Coordinating Minister for Political, Legal and Security Affairs Mahfud MD (chairman of TGIPF)
2. Minister of Youth and Sports (Menpora) Zainuddin Amali (vice chairman of TGIPF)
3. Former Deputy Attorney General for General Crimes Nur Rochmad (secretary of TGIPF)
4. University of Indonesia (UI) academic Rhenald Kasali (member of TGIPF)
5. Yogyakarta State University Chancellor Sumaryanto (member of TGIPF)
6. Football Observer Akmal Marhali (member of TGIPF)
7. Kompas journalist Anton Sanjoyo (member of TGIPF)
8. Former PSSI Manager Nugroho Setiawan (member of TGIPF)
9. Former Head of BNPB Doni Mornardo (TGIPF member)
10. Deputy General Chairperson of KONI Major General (Ret.) Suwarno (member of TGIPF)
11. Former West Kalimantan Deputy Chief of Police Inspector General (Ret.) Sri Handayani (member of TGIPF)
12. Former Deputy Chairman of the KPK Laode M. Syarif (member of TGIPF)
13. Former Indonesian national team player Kurniawan Dwi Yulianto
[Gambas:Video CNN]
(rzr/jun)


fbq('init', '1047303935301449'); fbq('track', "PageView");