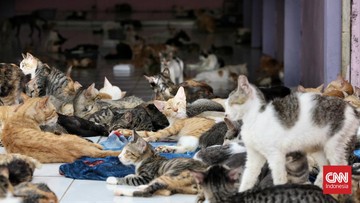 Bandung, CNN Indonesia
—
dozens cat in the city Tasikmalaya, West Java, was found dead and others mutilated by unknown persons. The police intervened on the findings of this case and searched for the sadistic perpetrator.
The cats were found dead in two different locations. First, in Cikurubuk Market and second in Indihiang Market.
According to the Head of Tasikmalaya Care for Cats, Rellys Irel, his party found at least 13 cats that were allegedly slaughtered consecutively between Friday and Saturday last week.
"There are those whose organs are missing, several others have their heads slaughtered. At the Cikurubuk Market, the cat died with his throat slit," said Rellys, Monday (3/10).
Not only that, Rellys also found as many as eight cats in a similar condition in Cikurubuk the previous week.
The massacre of cats in the two locations was allegedly carried out by the same person. This was confirmed by Rellys after seeing the condition of his wound.
On this finding, his party admitted that they had reported the matter to the police in the hope that the perpetrators would be caught soon.
"We have reported it to the Tasikmalaya City Police so that the perpetrators of the murder and mutilation of dozens of cats can be quickly arrested and brought to justice. We have tried to conduct searches by questioning traders, but so far no one is aware of the action," he said.
Meanwhile, the police dismantled the cat's grave at the Indihiang Market to follow up on reports of alleged animal abuse.
A total of seven cats were first found by a parking attendant on Saturday (1/10) in a mutilated state.
"The cats were then buried by the parking attendant," said Indihiang Police Chief Adjunct Commissioner Iwan.
Iwan admitted that his party carried out an investigation by investigating the crime scene and asking for witness statements, in addition to digging the graves of the cats.
Based on the excavation results, seven carcasses of seven cats were found, consisting of three adults and four children.
"Everything has been dismembered, including the head," said Iwan.
Iwan said the perpetrators would later be subject to Article 302 of the Criminal Code with the threat of a nine-month prison sentence.
(hyg/isn)


[Gambas:Video CNN]
fbq('init', '1047303935301449'); fbq('track', "PageView");