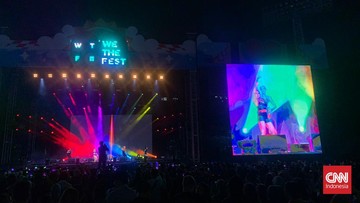 Jakarta, CNN Indonesia
—
Jackson Wang finally returned to greet Indonesia through his appearance on the first day of We The Fest (WTF) 2022, Friday (23/9).
Wang, who has just released his latest album 'Magic Man', appeared as the last artist to hit the WTF stage, aka the main stage of the celebration.
"How are you in Jakarta? Finally, this is my first performance in Indonesia as a solo artist," said Jackson Wang after performing the song 'Just Like Magic' as the third order that night.
The crowd welcomed the energy and enthusiasm of Wang, who was breathless by the hot and humid weather in Jakarta after the rain.
"It's really hot in here," he said before bringing the audience to the next song, 'Come Alive'.
In the middle of the set, Jackson did not forget to greet the entire audience to help him celebrate the excitement of WTF that night.
"But give me 30 seconds to drink, okay, before I continue," joked Wang after performing the song 'Blue'.
Slowly, the intro to the song 'Drive It Like You Stole It' again shook the impatient audience.
As if picking up the enthusiasm of the audience, Wang also did not hesitate to sit closer to the audience in order to maximize the interactions that occurred.
Appearing with stunning visuals, Wang at the same time answered the promise of the organizers who ensured a special and extra appearance from him.
Wang was present with dancers with lively choreography, as well as optimal visualization and sound arrangements.
(far/tsa)


[Gambas:Video CNN]
fbq('init', '1047303935301449'); fbq('track', "PageView");