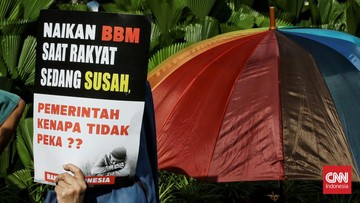 Jakarta, CNN Indonesia
—
PA 212 and a number of Islamic organizations who are members of the People's Guard National Movement (GNPR) again hold a demonstration against the increase fuel prices around the State Palace, Jakarta, Friday (23/9).
Today's action is a continuation of the previous action on Monday (12/9). Based on the circulating posters, the action is planned to be held around 13.00 WIB or after Friday prayers.
Wasekjen PA 212 Novel Bamukmin said that his party still brought three demands of the people or 'Tritura' to the government, namely lowering fuel prices, lowering the prices of basic commodities, and upholding the rule of law.
He claimed there would be hundreds of people attending today's action. The scholars, ustaz, and leaders of mass organizations who are members of GNPR will also attend the event.
"Until now, we are still collecting data on those who will attend, but as usual, those from Jabodetabek also West Java and Banten are present," Novel said, Wednesday (21/9).
The Main Expert Staff of the Presidential Staff Office (KSP) Ali Mochtar Ngabalin is ready to receive the 212 Alumni Brotherhood masses who will hold a demonstration against the increase in fuel prices.
Ngabalin said tomorrow he will be at the Bina Graha Building at the Jakarta Presidential Palace. He is willing to accept demonstrators who want to express their aspirations.
"There is no problem. If they want, we will accept it," said Ngabalin when contacted CNNIndonesia.comThursday (22/9).
Several actions against the increase in fuel prices have taken place in Jakarta. The actions included groups of students, workers, and online motorcycle taxi drivers in front of the DPR Building to the Horse Statue, Central Jakarta.
In recent actions, the masses have often broken through and damaged the barbed wire installed by the security forces on Jalan Medan Merdeka Barat or access to the State Palace.
Demonstrations against the increase in fuel prices are also still happening in a number of areas, such as Medan, Bandung, Semarang, Yogyakarta, Surabaya and Makassar.
(yoa/from)


[Gambas:Video CNN]
fbq('init', '1047303935301449'); fbq('track', "PageView");