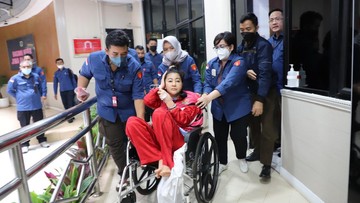 Jakarta, CNN Indonesia
—
Attorney General's Office (AGO) appointed the President Director of PT Misi Mulia Metrikal (MMM) Hasnaeni Moein or known as 'Wanita Emas' as a suspect in the alleged corruption of funds within PT Waskita Beton Precast in the 2016-2020 period.
At the AGO, Hasnaeni's transfer was colored by 'drama' after he screamed hysterically as he was about to be taken into the prisoner's car to the Salemba detention center. Hasnaeni was seen wearing a red suit and covered in a vest for the Attorney General's office.
At that time, Hasnaeni did not stop screaming hysterically. Hasnaeni, with shrill screams, even had a chance to rebel when officers from the Attorney General's Office carried him into the detention car.
[Gambas:Video CNN]
Hasnaeni was snared along with former PT WBP President Director Jarot Subana and PT WBP General Manager Kristadi Juli Hardjanto.
Based on the construction of the case, it was stated that Hasnaeni initially offered WBP a job related to the construction of the Semarang-Demak Toll Road. However, Hasnaeni requires PT WBP to first pay a sum of money to PT MMM under the pretext of investment.
Furthermore, Kristadi as General Manager of PT WBP made a payment invoice so that it seemed as if he had purchased materials from PT MMM. So, based on a fictitious claim from PT MMM, PT WBP handed over money worth Rp. 16,844,363,402.
For their actions, the suspects are suspected of violating Article 2 paragraph (1), Article 3 in conjunction with Article 18 of Law of the Republic of Indonesia Number 31 of 1999 in conjunction with Law of the Republic of Indonesia Number 20 of 2001 concerning Eradication of Criminal Acts of Corruption in conjunction with Article 55 paragraph (1) of the 1st Criminal Code.
(khr/tfq/ain)


[Gambas:Video CNN]
fbq('init', '1047303935301449'); fbq('track', "PageView");