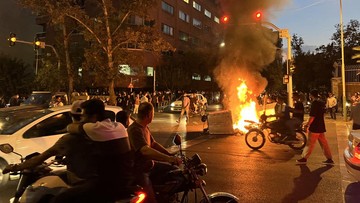 Jakarta, CNN Indonesia
—
Civil society groups in Iran says at least 50 people died in protests against the deaths Mahsa Amini. The residents who died were said to have been subjected to crackdowns by the local security forces.
Iran's Human Rights Institute (IHR) said the death toll continued to rise after six people were killed by gunfire from security forces in the town of Rezvanshahr, northern Gilan, late Thursday. Other deaths were recorded in Babol and Amol as well as northern Iran.
According to IHR, since it started last week, protests against Amini's death have been in 80 cities and other urban centers. IHR said deaths were also recorded in northern Kurdistan, where Amini is from.
"At least 50 people have died so far. People continue to protest their basic rights and dignity," said IHR director Mahmood Amiry-Moghaddam. AFPSaturday (24/9).
"The international community must stand with the Iranian people against one of the most repressive regimes of our time," he added.
Meanwhile, the death toll from the protests officially announced by the government amounted to 17 people. Five of them are police.
It was reported that Mahsa Amini died after being arrested by the moral police for not wearing a hijab. He is suspected of having experienced moral police violence.
After that, residents in various areas held protests against Amini's death.
(afp/tsa)


[Gambas:Video CNN]
fbq('init', '1047303935301449'); fbq('track', "PageView");