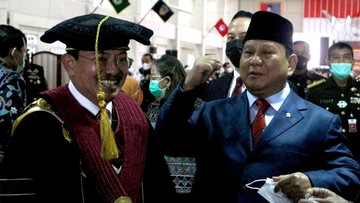 Jakarta, CNN Indonesia
—
Former Minister of Health Terawan Agus Putranto read the testimony of the Minister of Defense Prabowo Subianto regarding his vaccine, namely: Archipelago Vaccine. The testimony was written by Prabowo in the book 'Knowing and Making Vaccines of the Archipelago'.
In his testimony, Prabowo said the Nusantara Vaccine (Vaknus) was a form of national defense. Because, the vaccination was made to fight the Covid-19 virus that hit Indonesia.
"Minister of Defense Prabowo in his remarks in the book 'Knowing and Making Vaccines of the Archipelago' stated that vaccines are a form of national defense," Terawan said in a scientific speech to inaugurate his professorship title, Wednesday (12/1).
"Especially in the health sector in the face of biological warfare against the Covid-19 war," he added.
Terawan said Prabowo strongly supports the Nusantara Vaccine. Moreover, the vaccine is made by the nation's children. Parabowo, said Terawan, assessed the Nusantara Vaccine as the world's solution in dealing with the global pandemic.
"The presence of Vaknus can be a bright spot in the long passage against the Covid-19 pandemic for the world, especially Indonesia," he said reading Prabowo's testimony.
In addition to Prabowo, Terawan also showed support from the National Police Chief General Listyo Sigit Prabowo for Vaccination of the Archipelago. Based on his claim, Listyo said that Nusantara Vaccines came at the right time.
"One way to suppress the spread and impact of the pandemic is to make Vaknus. Vaknus is here at the right time as a solution to the problem of the COVID-19 pandemic," Listyo said in his testimony as read by Terawan.
According to Listyo, Vaknus also shows that Indonesia can turn a threat into an opportunity to make a leap of progress.
"The manufacture of vaccines will contribute to saving the lives of many Indonesian people. This success is also a source of pride for us as a vaccine that is made and produced domestically," Listyo's testimony read.
In the second phase of clinical trials, the Food and Drug Supervisory Agency (BPOM) has not yet given permission for further clinical trials. However, BPOM, the Ministry of Health and the Indonesian Armed Forces (TNI AD) on April 19 made a memorandum of understanding aka MoU.
From the MoU, it was agreed that the process of taking volunteer blood samples at the Gatot Soebroto Army Hospital, Jakarta was only carried out for research and service purposes. This means that only people who are interested in using the Nusantara Vaccine will receive the vaccine.
(yla/DAL)


[Gambas:Video CNN]
fbq('init', '1047303935301449'); fbq('track', "PageView");
.