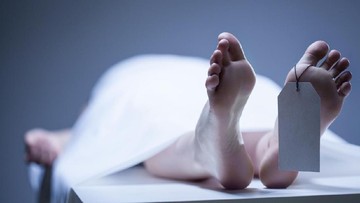 North Maluku, CNN Indonesia
—
The body of the Head of the Regional Disaster Management Agency (BPBD) West Halmahera (Halbar), North Maluku, Abdullah Ishak | (51 years old), who was found dead while at sea, will be post-mortem to determine the cause of death.
Previously, Abdullah was declared missing while fishing on Monday (10/1) afternoon. The SAR team later found him dead on Wednesday (12/1)
Head of West Halmahera BPBD Muhammad Ade Fabanyo confirmed the news. According to him, Abdullah's body was found in the waters of Ratem Village, South Jailolo District.
"The victim was found on the boat. Because the cause of death is not yet known, after the evacuation, the plan is to undergo a post-mortem," said Ade, Wednesday (12/1).
Head of the Ternate National SAR Agency (Basarnas) Muhammad Arafah said Abdullah's body was found at 08.01 WIT at coordinates 1.31 NM in the direction of 225 degrees (southwest) from where he was fishing.
Next to the body, they found a cell phone that was still active.
"The victim Abdullah, who was declared missing while out at sea on Monday (10/1) was finally found by the joint SAR team while conducting a search in the waters of Jailolo, West Halmahera," Arafah said.
The victim was then evacuated by the RIB 02 Ternate ship to the port of Jailolo, and then taken by ambulance to the funeral home.
"Furthermore, the victim's body was evacuated to Jailolo Harbor and handed over to the family," said Rizki.
Previously, the victim was reported at sea and disappeared in the waters of Jailolo, West Halmahera, while looking for fish.
The report was received by the Ternate Basarnas Search and Rescue Office on January 10, 2022 at 17.00 WIT. That, the victim reportedly went fishing using longboat blue in the Jailolo Waters, but the victim has not yet returned home.
After receiving the report, at 06.00 WIT, the Ternate Basarnas Rescue team was dispatched to the LKP suspect point to conduct a search for the victim using RIB (Rigit Inflatable Boat) 02 Ternate and the victim was finally found dead.
(iel/arh)


[Gambas:Video CNN]
fbq('init', '1047303935301449'); fbq('track', "PageView");
.