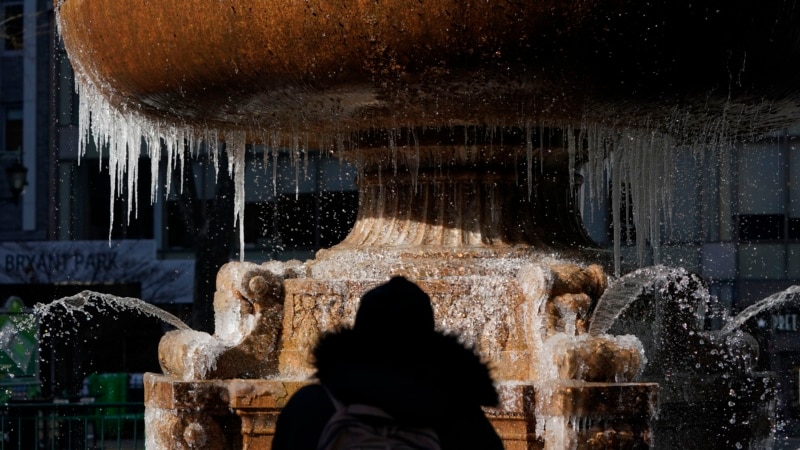 Extremely cold air blanketed America's East Coast on Tuesday, sending temperatures plummeting below zero and forcing school closures in several cities, the second in less than a week.
Schools in three cities in the state of Massachusetts – Boston, Worcester and Springfield – were closed. Authorities say they don't want students standing outside the school for long periods of time waiting for the school bus.
"There is an increase in COVID-19 cases among transport officials so buses are often up to 30 minutes late," a public school in Worcester tweeted. "The safety of students and school staff has always been the focus of our decisions," he added.
According to the American Weather Service (NWS), low temperatures can cause frostbite on exposed skin in as little as 30 minutes.
Other counties such as Syracuse, New York, Manchester, New Hampshire and Burlington, and Vermont were among the areas that also closed all public schools. This closure comes just days after many schools closed due to snow last Friday (7/1).
However, Bill Simpson, a meteorologist at the Lorton National Weather Service office in Massachusetts, said the frigid temperatures falling from Canada were a sign that winter would be short-lived.
Cold temperatures in areas near Lake Erie and Ontario in New York state are expected to drop to minus 30 degrees Fahrenheit or minus 34 degrees Celsius by Tuesday (11/1) afternoon. To make matters worse, parts of the state are expected to be hit by 0.6 meters of snow with winds of up to 64 kilometers per hour.
Cold temperatures in parts of Vermont on Tuesday (11/1) are expected to reach a few degrees below zero, with winds chilling to minus 37 degrees Celsius. Temperatures in New Hampshire hit minus 32 degrees Celsius with chilly winds sending the temperature down even further, at minus 58 degrees Celsius.
The Mount Washington Observatory posted a photo on Facebook showing a plate of frozen spaghetti with a fork.
The Department of Health and Human Services in New Hampshire announced that four state government-supervised COVID-19 test sites in Claremont, Manchester, Nashua and Newington had been forced to close due to extreme cold. Similar closures have occurred for COVID-19 testing sites in Springfield and Chicopee in Massachusetts. [em/jm]
.