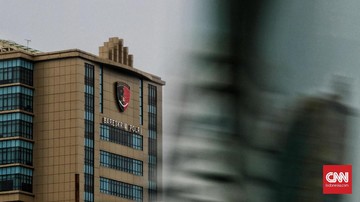 Jakarta, CNN Indonesia
—
Head of City Transportation Service Depok, Eko Herwiyanto is scheduled to be questioned as a suspect in the alleged case land mafia, Wednesday (12/1).
This is the first investigation of Eko by investigators from the Directorate of General Crimes (Dittipidum) of the National Police Criminal Investigation Department.
"Yes, today's inspection schedule is for the summons at 10.00 WIB," said the Dirtipidum Bareskrim Polri Brigadier General Andi Rian Djajadi when confirmed, Wednesday (12/1).
However, Andi could not confirm whether Eko would be present to fulfill the summons for questioning as a suspect.
Andi only said that the investigators had sent a letter to examine the suspect against Eko some time ago.
It is known, this case began with the victim's report, namely Major General (Ret.) Emack Syadzily. The victim is known to have served as one of the directors at the Strategic Intelligence Agency (BAIS).
The report is registered with the number LP/B/0372/VII/2020/Bareskrim. In the report, it is suspected that there have been criminal acts of forging letters, placing false information in authentic deeds, to fraud and/or embezzlement.
The National Police Bareskim then named four people as suspects. Namely, the Head of the Depok Transportation Service, Eko Herwiyanto, a member of the Depok DPRD, Nurdin Al-Ardisoma and a private party named Hanafi and the Director of PT Abdiluhur Kawuloalit, Buhanudin.
It is known that when this case occurred Eko was still serving as the Sawangan sub-district head in Depok. He is suspected of falsifying the statement of waiver of rights for private interests made by the suspects Hanafi and Nurdin Al Ardisma.
Burhanudin used this letter as a document attached to the application for the handover of the victim's land to the Depok City Government with a designation as a Public Cemetery (TPU). In fact, the fact is that the land was never sold or transferred by the victim.
It was stated that the surrender of the grave land was carried out by suspect Burhanudin as a requirement for the issuance of an IMB on behalf of PT Abdiluhur Kawuloalit.
In this case, the suspects were charged with Article 263 of the Criminal Code, Article 266 of the Criminal Code, Article 378 of the Criminal Code and/or Article 372 of the Criminal Code in conjunction with Article 55, Article 56 of the Criminal Code.
(dis/ain)


[Gambas:Video CNN]
fbq('init', '1047303935301449'); fbq('track', "PageView");
.