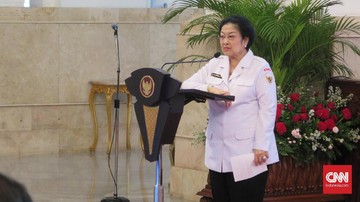 Jakarta, CNN Indonesia
—
Provincial Government Spokesperson West Sumatra (West Sumatra) Jasman Rizal responds to the General Chairperson of PDIP Megawati Soekarnoputri what West Sumatra calls it has changed and no longer has popular figures like the era of independence.
Megawati also admitted that she was nervous about the loss of the feel of working together in dealing with a problem in West Sumatra, especially in dealing with Covid-19.
Jasman Rizal admitted that he did not agree with the opinion of the fifth President of the Republic of Indonesia, which he considered wrong. According to him, the reality in West Sumatra is not like what Megawati said.
"We are free to have opinions and I feel that Mrs. Mega's opinion is legitimate, but I see the reality in West Sumatra is not like that, but that's okay," he said.
Furthermore, Jasman said Megawati's opinion would be used as material for self-introspection and not to be used as a polemic. According to him, West Sumatra still has popular figures who adapt to changing times.
"So it depends on which point of view you first look at West Sumatra. What is the standard of a popular figure? Is it from politics, government, or what?" he said.
Jasman said that young people from West Sumatra are also very popular in their respective fields, ranging from start-ups, economic business, to engineering. There are even those who have ventured into the international arena.
"Minang people are flexible. In the past, during the independence era, political figures and figures were needed to unify the nation, but nowadays what is needed are millennials who are based on innovation and progress," he said.
Judging from that, Jasman said Minangkabau youth still exist today, but in their respective fields, even though national figures in the political field are not like that anymore.
"The proof is, in 2015, we have formed the Minang Pride community, where young people from the pride of Minangkabau gather there. In it is Faldo Maldini, the start-up maker Traveloka, the creator of electric cars, and others," explained Jasman.
In addition, Jasman said that there were also national political figures from West Sumatra, such as Syafii Maarif, and 147 members of the DPR RI who were originally from Minangkabau even though they were not from the West Sumatra electoral district.
(new / DAL)


[Gambas:Video CNN]
fbq('init', '1047303935301449'); fbq('track', "PageView");
.